Wine & Food: What Wine Goes with Turkey?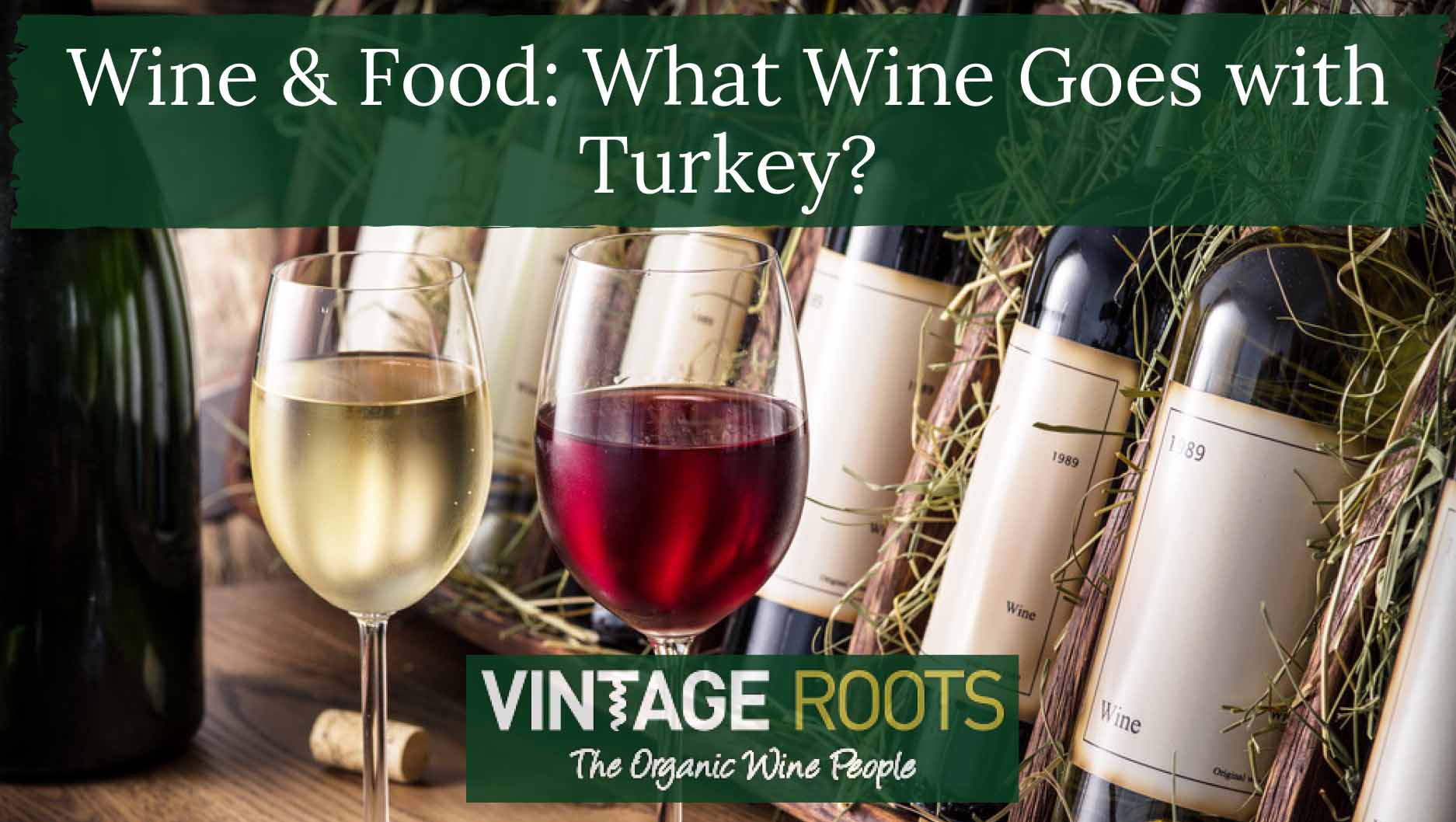 When planning a meal, we tend to think about how everything goes together. It's why turkey rarely makes an appearance without stuffing, pigs in blankets and roast potatoes – they work and they're what most people look forward to ! Add on the cranberry sauce, delicious gravy, and plenty of veggies, and you have the makings of a spectacular Christmas feast.
Having put in all that effort on the food, it's a shame not to spend a bit of time tracking down some of the best wines to serve with turkey.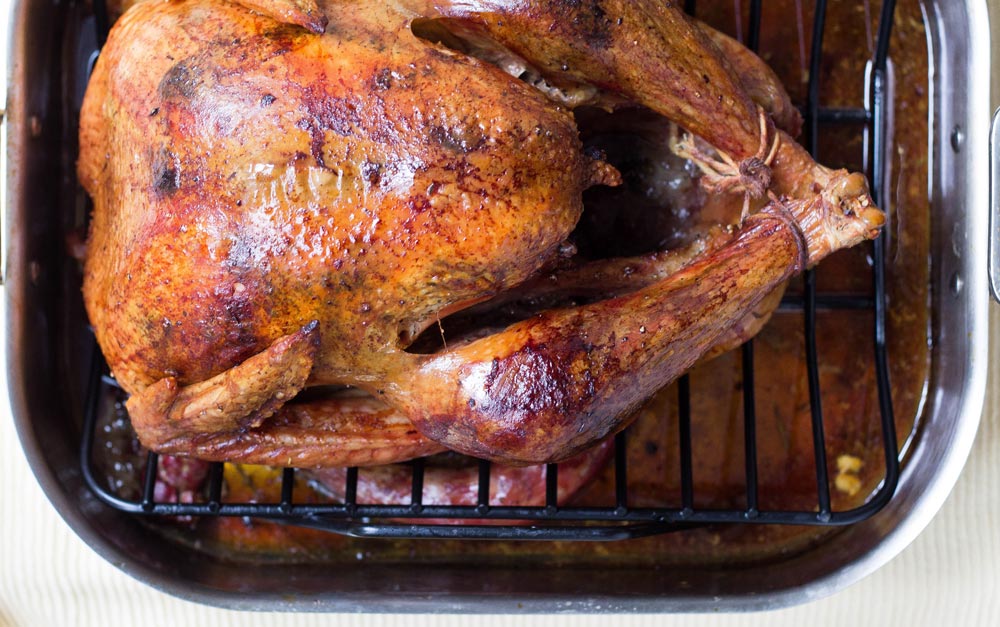 General Tips for Pairing Wine with Turkey
Turkey is a lean meat, but with plenty of flavour, particularly in the legs. (Note: That low fat content is the reason turkey can become dry if over-cooked).
If you're looking for a good wine with turkey, we have one simple recommendation: avoid excessive tannin! Tannins are perfect for high-fat meats and cheeses, as they will be softened by the meat.
With a low-fat meat like turkey, high-tannin wines can come across harsher and more accentuated.
Of course, you can't forget that turkey, served with gravy and mashed potatoes or stuffing, can be a fairly salty dish. Therefore a wine with some fruitiness, acidity and low tannin works brilliantly.
What Wine Goes with Turkey?
A good place to start when you're hunting down the ultimate roast turkey wine pairing, is to identify some of the best grape varieties.
We know we are looking for a wine where the tannins aren't too marked. It's also a good plan to have a wine that has a good crunch of acidity. Acidity may not always sound inviting but it is a core part of wine and acidity is your best friend when you have a meal that's full to bursting with diverse flavours and textures.
With this in mind, our top four (and not exclusive!) list of red grapes to consider pairing with your turkey this Christmas are: Pinot Noir, Tempranillo, Grenache and Sangiovese.
When it comes to white grapes for turkey, it's hard to choose! Again, not definitive but we are thinking Chenin Blanc, Riesling, Semillon and Verdicchio. Of course, Chardonnay wines are fantastic with Christmas lunch but it's always fun to spread the net a little wide, don't you think?
Best Wines with Turkey
Separated into red wines and white…
Best Red Wines with Turkey
The low-tannin wines are ideal for bringing out the light flavours of the meat, but without overpowering it with sweetness. Lush, fruity reds are our recommendation for the best pairings of red wine with turkey.
Pinot Noir: With soft tannins and balancing and refreshing acidity, Les Fossiles from Domaine de Reuilly meets the turkey brief to a tee! This is a red wine where one sip is never, ever enough.
Tempranillo: The Spanish grow their beloved red grape across the country. Bodegas Tempore are located inland between Barcelona and Valencia and here they've made a characterful, rich and velvety Tempranillo that's full of drive in their Generacion 76.
Grenache: Hands up if you've ever overcooked your turkey just a teeny weeny bit and it's just the slightest bit dry! When such culinary booboos occur (as they do for everyone), Châteauneuf du Pape is your very best wine friend. Wonderfully concentrated lashings of ripe, bold fruit, it is a very fine red wine to serve with turkey.
Because we love the wine and grenache so much, we also recommend Maison Plantevin's Séguret which oozes fruit from every drop. The best news is that it features in the sale!
Sangiovese: Where there is the tendency to go a bit overboard (as this blog writer looks guiltily to herself!) and serve up multiple stuffings, vegetables and sauces with the festive bird, a wine with enlivening acidity is more crucial than ever. When We Dance Chianti is just the ticket.
Best White Wines with Turkey
Chenin Blanc: It is the long, complex and mineral-driven finish that makes the newly-listed Longridge Wine Estate Chenin Blanc such a good wine with turkey. The mid-palate has the weight and texture too.
Riesling: From Chile comes another new wine – Novas Gran Reserva Riesling. The touch of residual sugar in this makes it a white that's very good with all the trimmings, especially if you like to make nut and dried-fruit based stuffing. Finishing with lime-kissed acidity, it's a lovely Christmas wine.
Semillon: Another white wine that has a gorgeous backbone of limey acidity, Château Grinou's Sémillon. Again, the wine's texture on the palate is a winner with a flavoursome Christmas lunch and one of the best wines with turkey.
Verdicchio: Here's a recommendation we don't think you would have seen coming… It's the lightly-sparkling Pievalta Perlugo Zero Spumante. Vibrant, expressive and mouth-watering it refreshes and revives the palate at every turn. A magical quality when the richness of all that food on the table begins to take its toll!