Last date for pre-Christmas delivery is 19th December, we will carry on sending orders after this date on an overnight service but we cannot guarantee you will receive your order before the 25th December.
The delivery charge for wines, beer, spirits and drinks is £7.95 for all orders under £125 in value.
Orders in excess of £125 will be delivered free of charge. We aim for deliveries to be made well within 3-5 working days from receipt of order, usual delivery time is 2 days from order being placed. No deliveries are made at weekends.
A 5% discount will be applied to all orders of 60 bottles or more of wines, spirits and liqueurs. All other goods will receive this discount only where they are ordered with this size of wine order. Discounts are not applicable to already discounted goods such as bin ends, pre-mixed cases, special offers or promotions.
Delivery charges and collections
Vintage Roots deliver to the UK only.
Regrettably, the following postcode areas need to be surcharged. Fee is total per order whatever size, and there is no 'free delivery' available.
Scottish mainland: £10 charge for postcodes – IV1- IV3, AB41, AB51, AB52, FK17-21, IV4-20, IV30-32, IV63, PA21-33, PH15-26, AB37-38, AB42-45, AB53-56, IV21-28, IV36, IV40, IV52-54, KW1-14, PA34-40, PH30-41, PH49-50, PA80
Scottish Offshore Islands: £18 charge for postcodes – HS1, IV41-45, KW15, PA20, HS2-5, IV46-51, IV55-56, KW16, PA41-49, PA60-78, HS6-9, KA27-28, KW17, PH42-44, ZE1-3
Channel Islands, Isle of Man, Isle of Wight, N.Ireland: please contact us for a quote.
Deliveries are made during office hours from Monday – Friday only.
Orders collected from our offices in Heckfield are eligible for a £5 per order discount (minimum order 12 bottles of wine or 24 bottles of beer/cider). We kindly request that customers contact the office on 0800 980 4992 to arrange a mutually convenient time.
We deliver over the whole country, with selected courier companies and locally with our own vans, here's some great feedback we've recently received:
"Just wanted to say thank you for your amazing delivery service in the week running up to Christmas. Ordered 2 cases on Sunday for 2 different addresses. Both the local one & the case for Scotland arrived on the Tuesday….brilliant." Alison L. Stirlingshire
Hands up, we know it can't be 100% perfect all of the time. Rest assured we make every effort to pack your order in our specially designed and branded, cardboard boxes, and get it out of the cellar, just as fast as we can. We don't 'farm out' our logistics when it comes to picking and packing, it's all done here at the farm by warehouse manager Colin and his team.
Colin has been with us for more than 15 years, and has handled a few bottles in his time! Carrier companies arrive in the afternoons to collect the orders, generally for next day or day 2 deliveries.
Wine Delivery – Our Boxes
In the early years we simply used to re-pack using the cases the organic wines arrived in. Although it was the most environmentally sound way of packing, it proved not quite safe enough with broken and damaged cases all too often being the result.
As our business grew we were able to contemplate having our own boxes designed, there's been quite a few re-incarnations with adjustments to cardboard and fluting thickness, overall dimensions, divider heights etc. About five years ago we arrived at the best Vintage Roots box (this is getting a bit anorak we know!), we're proud of it, we've got our name on it and surely hope your organic wines, beers and spirits arrive safely in it.
We can send any number really, from a single bottle to 1000s of bottles to any address, sadly we have to charge the same delivery charge (£7.95) for all orders under £125, after which delivery is FREE.
Apart from 12s (or multiples of), our most popular order size is 6s (easy and neat) and 15s. Over the years we developed the 15 bottle case as a very useful larger size version, as sometimes we had a need to pack some 'extras' in with a 12 bottle wine order, for example some chocolates, a book, some olive oil, a special extra bottle of spirits etc. Increasingly you're discovering that 15 bottles wine in a single box means better value per bottle delivery value!
Order 12 bottles – £0.66 p delivery per bottle
Order 15 bottles – £0.53 p delivery per bottle
As a general rule orders received Day 1 will be despatched Day 2 for Delivery Day 3 or Day 4 (working days only).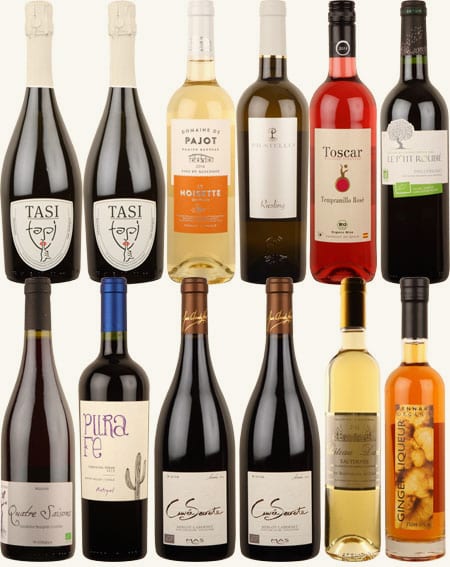 We do work with and supply many trade outlets throughout the UK, from Michelin starred restaurants to corner Café's, from corner shops to Harrods. Don't be surprised if you come across some of our wines in these specialist outlets (not supermarkets), at sometimes slightly higher prices.
In a shop you can walk around, talk instantly to an expert and buy exactly what you want for immediate consumption, without a delivery charge. We like to support the outlets we deal with, and think of them as partners. If you would like to know if there's any local to you, just give us a call on 0800 980 4992 and we'll happily let you know.
If you are out when the wine delivery is made?
When you order either by phone, web, post or fax, if possible please always let us know what to do 'in case you are out'. We can then pass this information on to the carrier company to ensure you receive your order quickly. It might be 'leave with neighbour at number xx', or leave in shed to side of house' etc. We'd advise against 'leave in wheelie bin outside door' for obvious reasons and especially on bin day!
If the delivery company arrives when you are out and there is no alternative, they should leave a note through your door with instructions. In NO circumstances should you ever accept a damaged or wet looking box, if there has been a breakage there will be broken glass inside which is both messy and dangerous.Simply refuse it, let us know and we'll rush a replacement order straight out to you. It rarely happens, but don't worry we'll sort any problems out.
If you have any questions, please contact the office on 0800 980 4992 or by email to [email protected].
"I just wanted to compliment you on your great service! I placed an order with you for 9 bottles of two different Novas wines, and they were here the next day, very well packed. The wines are fantastic. The prices were very good and the service friendly and excellent." Stephen B. Stockport