When you think of quality red wines, your mind may go to names such as Bordeaux (France), Chianti (Italy) and Rioja (Spain). But don't think for one minute the Old World is the only source of fine wine! In fact, some of the best wines come from the New World — including Australia, Argentina, South Africa, and, of course, Chile.
If there's one thing we've learned at Vintage Roots it's that excellent wine can be found in almost every country around the world. For New World wines, there are few that can beat Chile, a country blessed with the perfect climate for organic winemaking.
Below, we'll take a look at the Chilean red wine list so we can better understand what sets this country's wines apart from all the rest. By the time you reach the end of the page, you'll be looking forward to a glass of the best Chilean wines as much as we do!​
Chilean Red Wine: Wine Country​
With a winemaking history stretching back to the mid 16th Century, it seems a bit unfair to label Chile as a 'New World' country. The good news is that this has helped to keep prices fairly low.
The wine-growing areas in Chile have fast become a hotspot, thanks to the fact that they produce a wide variety of high-quality wines. The Humboldt Current of the Pacific Ocean brings a cooling effect that encourages the growth of healthy, balanced grapes, particularly Cabernet Sauvignon — the wine for which Chile is arguably most famous.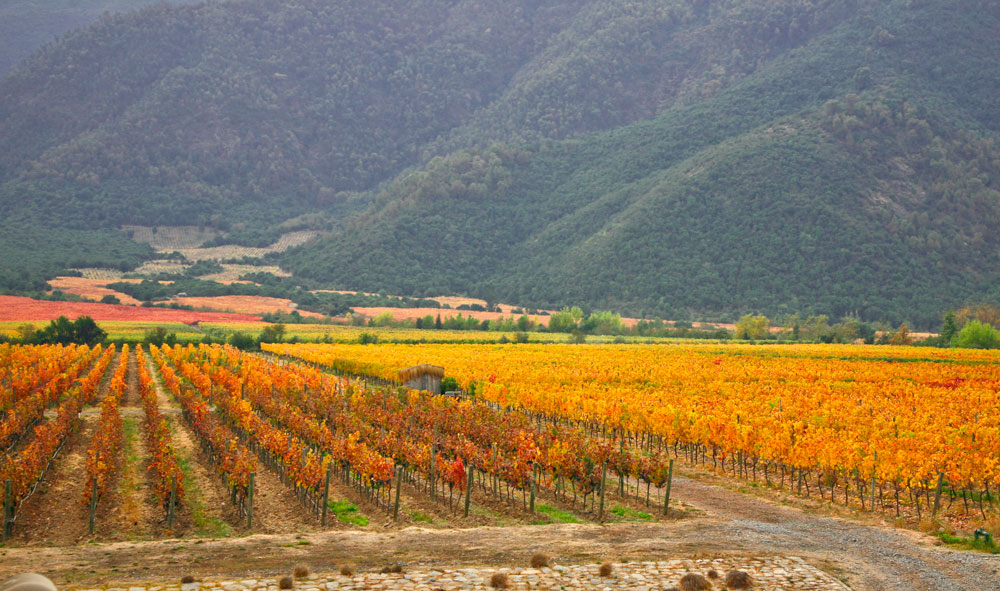 The quality of Chilean wines has always been good, and it has reached the 'great' status in the last few decades. However, we've found that many of these — particularly those exported around the world — have a very affordable price tag.
Compared to somewhere like California, with its incredibly strong domestic market, Chile's wines represent excellent value.
Chilean Red Wine: Cabernet Sauvignon​
Cabernet Sauvignon is Chile's most planted grape variety, and most of Chile's best comes from the Central Valley, the wine-growing region near the country's capital, Santiago. There are four valleys that make up Central Valley:​
The Central Valley is famous for its excellent terroir, delivering bright, rich flavours, as well as deeper notes like blackberry, chocolate, tobacco, and stone fruits. Some Old World Cabernets can be quite austere, with lots of tannin and a dry finish, but Chile's sunnier climate tends to give softer, more rounded wines.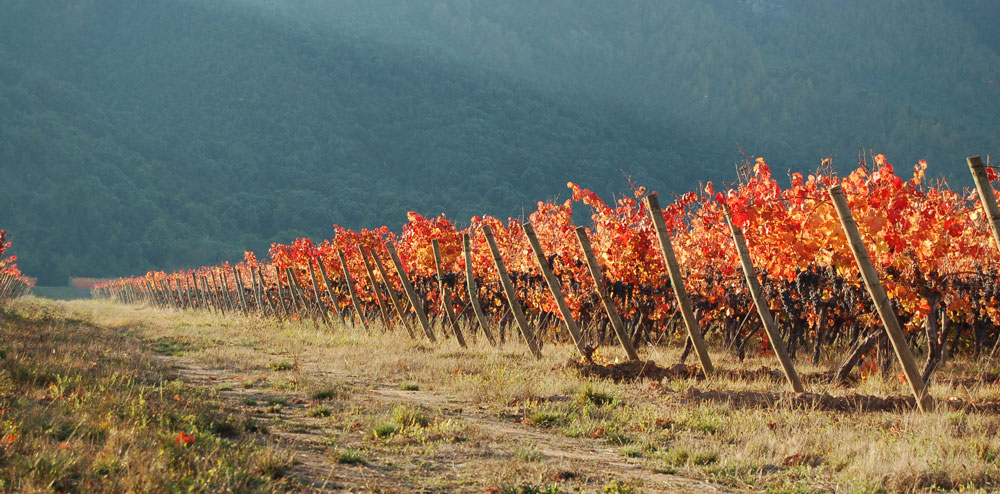 The beauty of the Cabernet Sauvignons is that they tend to be fairly inexpensive. You can find a bottle of quality Chilean red wine for under £10, but there are bottles costing hundreds of pounds too!
Our Recommendations:
We highly recommend the two wines below:
Coming from Colchagua Valley, this is a blend of Carmenere and Cabernet Sauvignon, combining the softness of Carmenere with the more structured Cabernet.
This Colchagua Valley wine is made from Cabernet Sauvignon, Carmenère, Malbec, Merlot, Mourvedre, Syrah/Shiraz. The strong flavours of leafy spice, chocolate, berry fruits, and earth mix beautifully with plum and cherry aromas. Seriously good wine.​
​Chilean Red Wine: Carmenère
Carmenère is Chile's signature grape variety, a grape originally grown in Bordeaux. In the 1800s, grape cuttings were brought from France to Chile, but the people who brought it believed the cuttings were Merlot. However, DNA testing in the 19990s proved that they were Carmenère.
The wines produced with Carmenère grapes tend to be medium-bodied, fruity and with a distinctive, but varying degree of green bell pepper flavour. Carmenère is nearly extinct in the Old World, making Chile one of the only producers of this wine in the world.
The interesting thing about Carmenère is that it usually has 'green' flavours: tomatoes, bell peppers, and other herbal flavours (and aromas) that are reminiscent of IPA beers. For those who like new flavours, Chilean Carmenere is well worth exploring.
Our Recommendations
Here's a favourite of ours:
Pura Fe Carmenere – We love the deep, dark purple colour of this wine and its rich berry and spice flavours with its well-rounded tannins and smooth finish.
Chilean Red Wine – Merlot​
Chilean Merlot is very popular in the UK, offering smooth, fruity wines at great prices. In Chile, Merlot can be found as a single varietal (i.e. 100% of wine) or used in blends to soften more tannic varieties such as Cabernet Sauvignon.
Until the early 90s, a lot of the red wine that came from Chile featured 'Merlot' on the label. However, since 1994, a lot of the Chilean Merlot has been reclassified as Carmenère.​
Here's two of our favourite Merlots, in two different styles:
This Rapel Valley wine is a great value, soft, supple Merlot made for easy-drinking.
Las Ninas are based in Apalta in the Colchagua Valley, a really great subregion for red wines. This Merlot is made from some of the best grapes, and aged in oak barrels. It combines a gorgeous ruby colour with aromas of sweet spice, berries, and cacao, as well as a soft, smooth finish.​
​
Chilean Red Wine: Syrah / Shiraz
Syrah and Shiraz are two names for the same grape variety, but in Chile, as elsewhere in the New World, the terms may signify a stylistic difference: the 'Australian-style' Shiraz, with its plump, smoky flavours, which comes from the Central Valley region; and the leaner 'French-style' Syrah, grown in high-altitude regions, famous for its lean, peppery flavours and elegant style.
The flavours of Chilean Syrah tend to be spicy and full-bodied. You'll get a lot of graphite, black pepper, chocolate, raspberry, and black cherry. As with other types of Chilean red wine, Syrah can offer a lot of bang for your buck in terms of flavour.
Our Recommendations​
Here's two great styles, one of which happen to made without the addition of sulphur:
This Syrah is young and fresh, with a light, refreshing character. It's also a fair trade wine and is made in the Casablanca Valley region.
This Casablanca Valley wine is richer and more full-bodied, with strong aromas of earthy forest floor and ripe black fruits. The flavours of pepper, blackberry, nutmeg, and blueberry make for a very unique combination.
​Chilean Red Wine: Malbec
When most people think of Malbec, they immediately think of Argentina, Chile's next-door neighbour. However, there are some great Malbecs coming from Chile now. The style of Chilean Malbec is often lighter, but still with those hallmark dark fruit flavours.
Our Recommendations​
This is a true Vintage Roots icon wine. It is a mixture of Malbec with Syrah, Merlot, Carmenère, Cabernet Sauvignon, and Mourvedre. We're in awe of the breadth and depth of this wine's flavour, and the wine has beautiful structure and well-placed tannins. Best of all, it's cracking value for a wine of this quality and ageing capacity – it should keep for ten years or more!
​Chilean Red Wine: Garnacha
Garnacha (aka Grenache) is an Old World grape (from France and Spain) that Chile has made its own. A number of vineyards have grafted Garnacha shoots onto existing Carignan vines, producing a unique type of grape that makes for amazing wines.
Garnacha isn't commonly used as a single varietal, but it's found in a wide range of blends. It gives powerful fruit aromas, and lots of body, but is low in colour and tannin thanks to its thin skins.
Our Recommendations​
This wine combines 50% Garnacha with 50% Syrah, then ages it in French oak for 18 months. The result is a full-bodied wine with dark, spicy flavours that linger on your palate. This is always one of the most popular reds when we have it at tastings.
​The beauty of Chilean red wine is that there is so much variety available. Chile produces a large quantity and a large variety of wine, and thanks to its favourable climate, much of it is organic.
Want to find amazing organic Chilean red wines? Check out our Chilean wine list to find the wine that best suits your palate…