Top 10 Gifts
Choose a gift that is good for the recipient, and the environment: we have delicious organic choices available including vegan and fair trade, all at fantastic prices! We also have gift vouchers.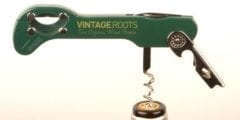 What we use for opening all of our wines
Sold out

A bottle each of the delicious Wild Thing wines, which help support the Born Free Foundation, smartly presented in a wooden gift box.
Sold out