If you're looking for something nice and fresh to drink, there's nothing quite like a chilled bottle of rosé! Whether you're heading out for a picnic, sipping drinks on your porch, or partying with friends, rosé wine is perfect for any occasion.
How is Rosé Wine Made?
There are three rosé wine-making methods:
Blending

Perhaps the most obvious way to make rosé is to blend red and white wine, but this method is only used for inexpensive, poor-quality wines (with the very notable exception of rosé champagne)

Maceration

Red grapes are pressed and left to sit in their skins, but the juice is separated when the desired colour is obtained. Maceration times are usually between eight hours and two days, depending on the intensity of colour in the grape skins.

Saignee

High-quality rosé wines are made using this method, which involves bleeding off roughly 10% of the juice from red grapes during the wine-making. The juice that has been drained is fermented into rosé wine, while the rest is turned into red wine!
Did you know that there are different types of rosé wine? Most people simply see a bottle of delicate pink-coloured wine and think it will taste like all the others, but, just as with red or white wine, each of the rosé wine types are unique.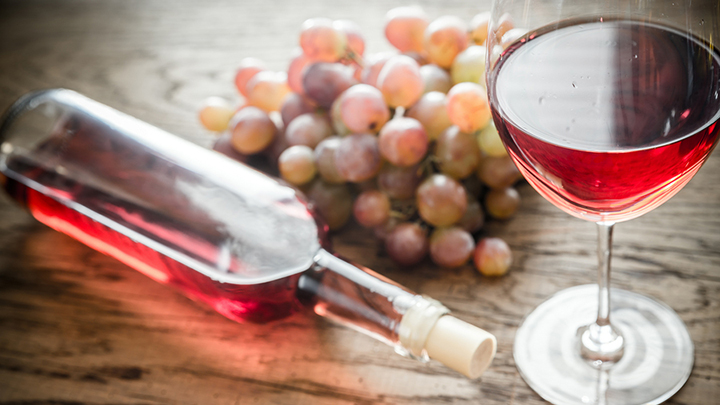 Below, we have a list of some of the best rosé wine varieties for you to try:​
Provence
The most famous rosé region in the world, the rosé wines of Provence are versatile, making them perfect for both an aperitif and partner for food. The wine is fresh and crisp, and just dry enough that it pairs well with a wide range of foods.
Provence rosé is made from a blend of grapes including Grenache, Mourvedre, Syrah, and Cinsault grapes, and has a beautiful pale pink colour.
The nose has hints of rose petal, freshly cut watermelon, and strawberries, and you'll find that there is a distinctive minerality and spiciness on your palate.
Serve with: This rosé wine tastes amazing when served with steak salad. Try the Jas d'Esclans Côtes de Provence Cru Classé
Domaine Jas d'Esclans AOC Côtes de Provence Cru Classé
Grenache
Also known as Garnacha (in Spain), the French Grenache grape is perfect for producing rosé wine! It is low in tannin and acidity, but has decent body and lovely cherry flavours.
The wine has a lot of zest when served cold, so it's one to leave in the fridge for a good hour or so before drinking.
Serve with: This rosé wine tastes amazing when served with Greek food, such as stuffed vine leaves. It pairs beautifully with the tzatziki sauce!
This would be great with the Grenache-dominant Mas de Longchamp Rosé – a great value rosé from the western Provence region of Alpilles.
Mas de Longchamp Rosé IGP Alpilles
Syrah
You won't find many Syrah rosé wines in Europe, although it is used in French rosés as part of a blend. This is one of the types of rosé wine that can be served a touch warmer, thanks to the bold flavours.
The colour tends to be deep, usually trending more towards ruby red. The rosé wine has strong notes of cherries, white pepper, and strawberries. It tends to be a bit more full-bodied, but a good one to enjoy with food.
Serve with: This rosé wine tastes amazing when served with chili or pizza–the bold flavours can stand up to the stronger food.
Try the Adobe Rosé Reserva, made from 85% Syrah and 15% Cabernet Sauvignon

Adobe Rose Reserva
Tempranillo
Spain is one of the largest producers of organic rosé wine, and Tempranillo is the main grape used. Famous for being used in the red wines of Rioja, it can also produce excellent rosé wine.
As with the reds, Tempranillo rosés give flavours of strawberry and raspberry with refreshing acidity.
Serve with: This rosé wine tastes amazing when served with light tapas dishes and grilled vegetables. The Wild Thing Rosé is a classic Tempranillo rosé, and helps to support the Born Free Foundation through a charitable donation.
Wild Thing Rosé
Pinot Noir
Pinot Noir is not an easy grape to grow, and is sensitive to weather and climate changes. However, when turned into wine, the result is an elegant, delightful product.
Pinot Noir rosé is bright and acidic, with subtler aromas of wet stone, cherries and raspberries. The wine is cool and crisp, and dry enough to be enjoyed with mild-flavoured foods.
Classic regions producing Pinot Noir rosé include Sancerre and Rosé de Loire.
Serve with: This rosé wine tastes amazing when served with crab or goat cheese salad. Try our Pinot Noir rosé from Albet I Noya in Catalonia which is blended with Merlot to add extra body and softness.
Penedès Pinot Noir/Merlot Clàssic Rosat
Tavel
Tavel is a unique and historic style of rosé. It is believed to have been the favourite of writer Ernest Hemingway, and it's a beautiful vintage known for being extra dry compared to other rosé wines.
It has all the structure and character of a classic red wine, just with the dark pink colour that marks it as a rosé wine. It's low in acid and high in alcohol, it is made using Cinsault, Grenache, and other grapes.
The wine has a strong nose of summer fruits, but, when aged, the aromas can turn nutty. It is definitely a food wine, and can even be aged for a few years.
Serve with: This is a good rosé for matching with richer foods such as BBQ or brisket.
Sangiovese
Sangiovese rosé is made using the Italian Sangiovese grape, more famous in wines such as Chianti. It produces rosé wine with a pale copper colour.
There are strong notes of roses, and fresh strawberries, and they tend to have a good acidity. There may be a hint of bitter on the finish, a common mark of these types of rosé wine. The wine will usually be dry and fruity, and is best when served cold.
Serve with: This rosé wine tastes amazing when served with Moroccan-style chicken and couscous.
White Zinfandel
White Zinfandel is technically a rosé wine made from Zinfandel grapes, and is the single most popular type of rosé wine sold in the United States due to its low-acid, off-dry style. It was popular in the UK, but now the paler, dried styles such as Provence rosé are more popular.
Serve with: This rosé is good with spicy cuisine such as Thai, where the sweetness offsets the spice in the food.
If you're looking for a quality type of rosé to enjoy, these are some of the best options out there. Check out our list of rosés here to see which we can deliver to your doorstep, to drink with all of your favourite foods.​