The Beginner's Guide To Organic Syrah/Shiraz Wine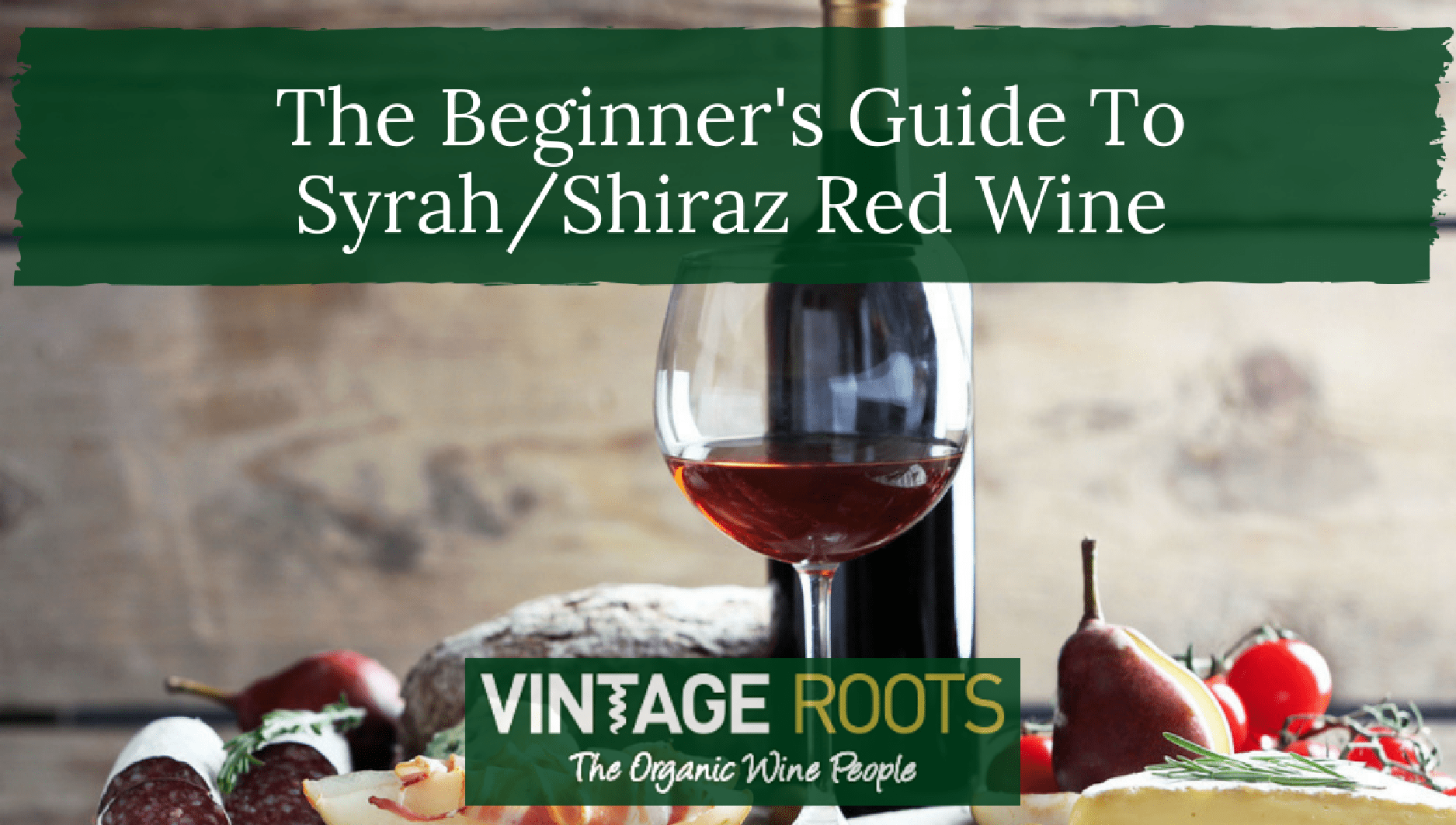 The Beginners Guide to Organic Shiraz Wine
Let's begin by making it clear that Shiraz and Syrah are one and the same. Shiraz is the widely adopted 'new world' name for this much-loved, black-fruited, and peppery red grape.
Today, organic Shiraz wine is one of the world's most widely planted grape varieties. From Australia to South Africa, France, USA and Italy, there are an estimated 140,000 hectares of the vine worldwide.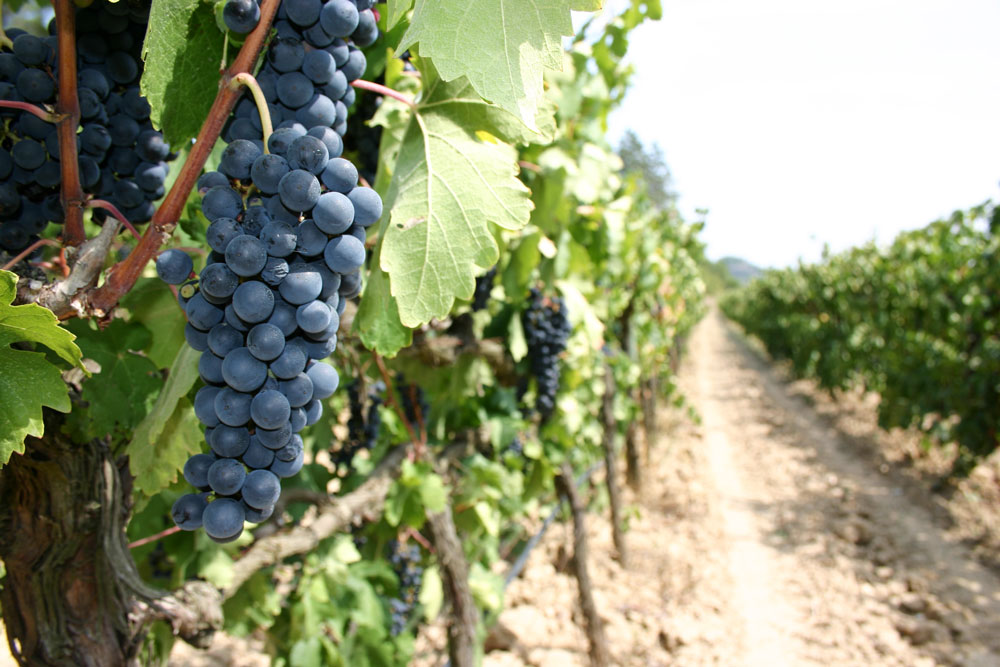 What are the wine characteristics of organic Shiraz?
● Organic Shiraz is a grape that gives wines that are impressively deep in colour, often described as 'inky' or 'opaque'. As with all wines, the colour changes with age and a wine that can start life vibrantly purple, can start to have more garnet-like hues.
● The aromas will depend on the wine's origin and the winemaking (oak versus unoaked), but common characteristics would include black fruit, black cherry, bramble, damson plum, spice, pepper, leather, chocolate.
● Organic Shiraz wines are likely to be full-bodied and with moderate to high alcohol levels. Bold and expressive with a clear tannin structure. You'll find easier-drinking examples, through to hugely complex, long-lived wines.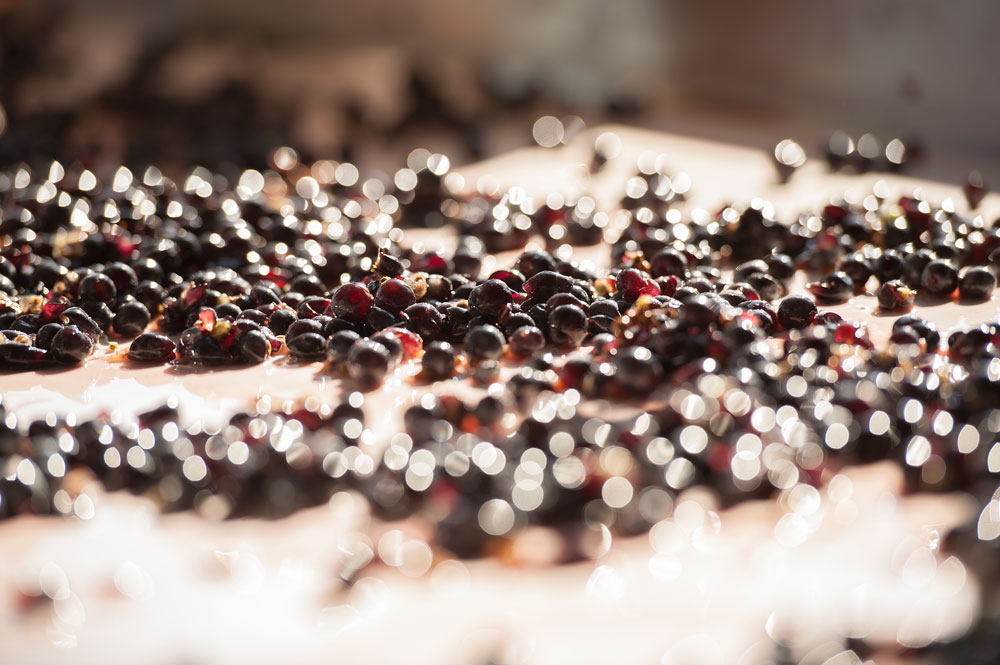 Does organic Shiraz need to be chilled?
Before we all lived in cosy, centrally heated houses, wine folk talked of serving wines at room temperature. This means that today, red wines are often served too warm. This can make them feel excessively alcoholic and mute the flavour. Whilst we don't recommend chilling your Shiraz as you would a white wine, there can be benefits in popping the bottle in the fridge for ten to 15 minutes. No more than that though!
Organic Cabernet Sauvignon versus Organic Shiraz
Both Cabernet Sauvignon and Shiraz are high-quality grapes, capable of delivering brilliant wines. However, remaining mindful of the pitfalls of generalisations, here are some differences you might find:
Flavour profile
Where Cabernet Sauvignon is more blackcurrant and mint, organic Shiraz is black plum and pepper.
Alcohol content
Organic Shiraz wines are typically higher in ABV, with 15% not uncommon.
Tannins
For some wine tasters, the tannins that come from Cabernet Sauvignon can be firmer than those of Shiraz / Syrah, where they lean to being more rounded.
Where are organic Shiraz wines produced?
Organic shiraz wine, also known as Syrah, can be found around the world from Lebanon to New Zealand and Sicily and Canada.
Best countries that grow organic Shiraz
Organic Australian Shiraz wine
Shiraz was first brought to Australia by James Busby in 1832. The locals named the grape variety Shiraz, and it was not long before it was one of the most widely planted vines. For many it is Australia's Shiraz wines that put the variety firmly on the global stage. The Barossa Valley settlers were instrumental in showing Shiraz's outstanding potential with names like Jacob's Creek, Henschke and Yalumba all part of the grapes' Oz history. Today, Shiraz is the most widely planted red grape in Australia. The big, bold, fruity wines of the 1990s are still loved and available but the styles of Shiraz wines being made have broadened significantly. So called 'cool climate' Shiraz wines are being made in regions like the Yarra Valley and smaller producers are adopting a more terroir-driven model. Happily, for us, there is also increased interest in organic and biodynamic viticulture and winemaking.
Organic Argentinian Shiraz wine
With just under 30,000 hectares, Argentina has the third largest surface area of Shiraz vines in the world. Historically it was used mostly in red wine blends but as growers have become more knowledgeable about the grape and their own terroir, so the number of single variety Argentina Shiraz wines has increased. Shiraz is doing notably well in the cooler areas of Mendoza, particularly in the Uco Valley.
Organic South African Shiraz wine
Exciting Shiraz wines are starting to emerge from South Africa, where they seem to capture an especially spicy and smoky quality. These are certainly wines to watch.
Organic American Shiraz wine
California and Washington are the two top areas for American Shiraz. With a vast array of terroirs and individual producers, you will find all sorts of styles emerging from these regions.
Organic French Syrah
You will find Syrah across southern France but its heart beats strongest in the Rhône Valley. From clay to stony, limestone, granite and sand, this French region is wonderfully diverse. The northern appellations such as Hermitage and St-Joseph are well-known for impressively steep slopes and clay, rocky, granitic soils. Here the Syrah wines produced can be capable of decades-long ageing, thrilling the wine drinker with their complexity
and finesses. Heading to the south of the valley, the Mediterranean influence and the famous garrigue (herbal scrublands, oak and pine trees, lavender), mark the wines. Unlike the north, sand and limestone soils are found here too. Famous appellations in the south would be Châteauneuf du Pape, Tavel, Séguret and Vacqueras.
Food Pairings with Shiraz wine
Organic Shiraz wine is hearty by nature and rarely less than medium to full-bodied. The key thing to bear in mind when you're thinking about food is to go for full-bodied flavours. Here comes a trio of ideas to get your culinary creative juices flowing.
● The vegan mushroom ragù that comes from Olive Magazine is a fine match for Château Rochecolombe's Côtes du Rhône. The dish is super simple to make, not excessively expensive and delicious too!
● Roast leg of lamb is a great British dish. We refer to his recipe elsewhere so forgive the repetition but Simon Hopkinson's Roast Lamb is very, very hard to beat. We know it's cooked in white wine but don't, for a minute, think that precludes a juicy Syrah to partner it. Try the Chilean Salvaje Syrah / Roussanne, No Added Sulphur.
● Lastly, organic Shiraz seems to melt beautifully into chargrilled flavours, so you can whip out a bottle with pretty much anything you're cooking on the BBQ (or indoor grill).
Our top organic Shiraz wines
Vintage Roots have a stunning selection of organic Shiraz wines. Click here to see our full range.
Everyday drinking organic Shiraz
Stellar Shiraz No Added Sulphur. This is a juicy, black-fruited gem of a Shiraz at a really great price. Tannins are super-soft, the palate full and generous.
Pink organic Shiraz
Adobe Rosé Reserva. From Chile, this is a Syrah / Cabernet Sauvignon blend that oozes elderberry and red cherry fruit. Quite a punchy rosé that will drink very nicely with food.
Wonderful Rhône Syrah
Maison Plantevin Séguret Côtes du Rhône Villages . Capturing the herbal essence of southern Rhône Syrah, this has blackcurrant and cassis notes too. Warm, round and succulent.
Australian Organic Shiraz
The Natural Wine Co Organic Shiraz. A plummy, softly spiced Shiraz from the country that made this grape famous. Impossible not to like!
Stunning Shiraz blend
Bousquet Gaia organic Malbec / Shiraz / Cabernet Sauvignon. What we love about this Argentinean blend is that has old world finesse, blended with new world opulence. Polished, brilliantly ripe, and laden with flavour, this is a wine that won't disappoint.
Five things you may not have known about Shiraz red wine
● Shiraz is French in origin. What is less well-known is that it is a cross between two, pretty obscure grape varieties: Dureza and Mondeuse Blanche. Whatever their individual qualities and weaknesses, they made magnificent parents!
● Shiraz has several synonyms, including Balsamina, Hignin Noir and Serine.
● One of the new world's most iconic Shiraz wines is Australia's Penfolds Grange. A bottle of the 1951 vintage (of which only a tiny number remain) sold at auction for A$142,131 in 2021.
What does Shiraz wine mean?
Keen historians and travellers may wonder if there's a link between the Iranian city, Shiraz, and the grape. Storytellers sometimes tell the tale of France's crusader, Guy de Strimberg, returning to his homeland with vine cuttings from Shiraz, where he planted them in the Rhône Valley. It is a story I would love to be true, but science and DNA testing has now shown that Shiraz is indisputably indigenous to France. The Rhône Valley is Shiraz's most famous home and the famous wines of the north, such as Hermitage and Côte Rôtie, are amongst some of the finest and longest-lived Shiraz wines you will ever taste, also known as Syrah. Explore our collection of organic Shiraz wine or explore more options on our website. Read our wine guides for more information about organic wines from the organic wine experts Vintage Roots.