When it comes to wines, there are few as well-recognised as Cabernet Sauvignon – it is the world's most planted grape variety. Just about every wine-growing country in the world has Cabernet Sauvignon vines and you'll find amazing Cabernet Sauvignons from dozens of countries around the globe.
But why is Cabernet Sauvignon so popular? Below, we'll answer all of your questions, including:
What is Cabernet Sauvignon?
How is Cabernet Sauvignon made?
What does Cabernet Sauvignon taste like?
What are the characteristics of Cabernet Sauvignon?
What are the best Cabernet Sauvignon food pairing recommendations?
We have compiled everything you need to know about this amazing wine. Read on to find out the A-Z of Cabernet Sauvignon wine…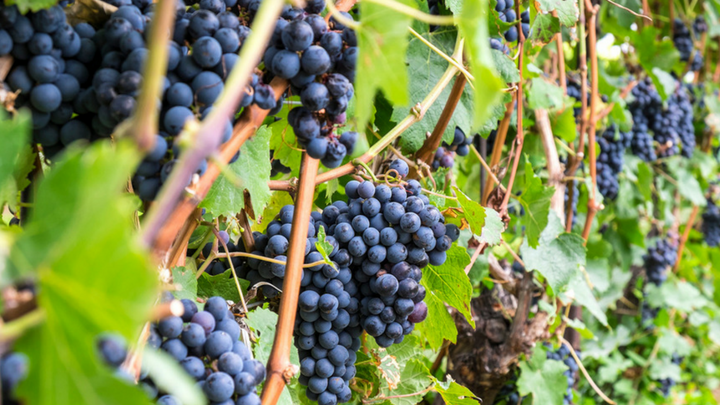 What is Cabernet Sauvignon?
Cabernet Sauvignon is a grape that originated in France in the 17th Century. When an accident caused the Cabernet Franc grape plant (a red) to be bred with the Sauvignon Blanc grape plant (a white), the resulting grape was named Cabernet Sauvignon.
The grape soon became popular among winemakers thanks to its thick, durable, tannin-rich skin, and its ability to grow in harsher climates.
Cabernet Sauvignon vines are easier to grow than many other varieties (such as Pinot Noir), and it flourishes in a broader range of climate conditions. All of this has led to it being one of the most popular types of grape in the world.
The high tannin level of Cabernet Sauvignon means many of the wines can evolve in the bottle for years. It is also responsive to oak and develops deeper, more complex flavours after spending time in barrel.
Cabernet Sauvignon produces full-bodied wines with a medium to high level of acidity, and is perfect for blending with other grapes—such as Merlot, to soften the palate, which is used to make the world-famous Bordeaux red wine blend.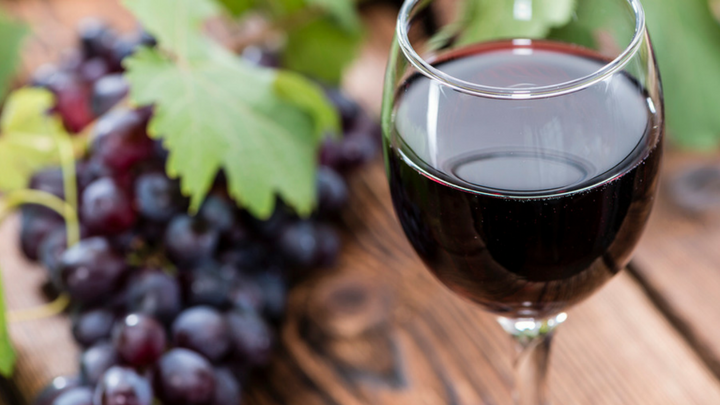 Cabernet Sauvignon 101
Cabernet Sauvignon is a very distinctive wine, one that most wine connoisseurs will be able to recognise. There are many characteristics you can look out for to spot a good Cabernet Sauvignon:
Colour
The colour of a Cabernet Sauvignon wine is usually a rich, dark, inky purple colour.
This is the result of the dark, thick-skinned grapes used to produce the wine. When aged, a lighter 'brick' red colour can be seen at the edges of the glass.
Aromas and Flavours
The aromas and flavours of the Cabernet Sauvignon will change according to the region where it is grown. Warmer climates will produce very fruit-heavy notes: black cherries, plums and blackberries.
Colder climates will provide aromas with more earthiness: herbs, spices, mint, tomato leaf, eucalyptus and leather.
The unifying flavour is blackcurrant, which can be found in most Cabernet Sauvignon, being jammier in warmer climates, and leafier in cooler areas.
Storage and Ageing
Cabernet Sauvignon does lend itself well to oak ageing and extended cellaring, but this completely depends on the style of wine being made. Producers seeking a fresh, fruity style will eschew barrel ageing (for example, Domaine de Brau Pure Cabernet Sauvignon), and recommend drinking the wine within its first few years.
Regions such as Bordeaux routinely use oak, which helps to soften the tannins, and ensures the wine has better complexity of flavours and aromas. The type of oak used to age the Cabernet Sauvignon will also affect the flavour. French Oak has a subtler impact on the wine's flavours and aromas, thanks to its tighter grain.
Looser-grained American Oak will have a more noticeable impact on the flavours and aromas. You may also hear producers talking about the amount of 'new' oak used for a particular wine. This means that the barrel has not been used before, unlike a one or two year old barrel, also known as second or third fill. The more times the barrel has been used, the less effect it will have on the wine.
Some of the flavours resulting from the oaking include tobacco, vanilla, cedar, coconut, and smoke.
Regions
The best-known regions for Cabernet Sauvignon include Bordeaux (where it's blended with Merlot) and California (where it's left on its own).
However, it's grown all around the world: from Australia and New Zealand to Spain and Italy, from Chile and Argentina to South Africa. It's even grown in China, Lebanon, and Israel.​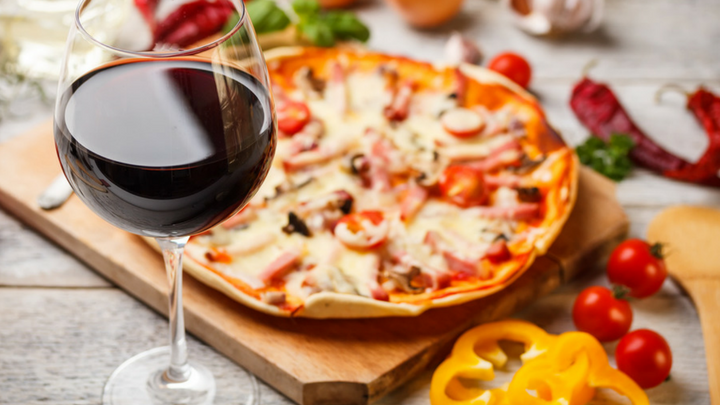 Cabernet Sauvignon Food Pairing Recommendation
Given the high acidity and tannin of Cabernet Sauvignon, it is a wine that benefits from being paired with food.The best meals to serve with Cabernet Sauvignon are any that contain meat or cheese, as tannins in wine are broken down by protein, and the acidity in the wine cuts through the fatty richness and cleanses the palate.
For example, a classy cheeseburger (made with quality sirloin beef and Gruyere or blue cheese) will have plenty of fat and umami flavours to soften the tannins of the Cabernet Sauvignon.
Mushroom pizza is another beautiful dish to pair with Cabernet Sauvignon. The rich tomato, cheese, and mushroom flavours will cut the tannins and make the wine a bit softer on the palate.
We love to serve Cabernet Sauvignon with a marinated ribeye steak or mushroom stroganoff.​
Cabernet Sauvignon Serving Tips
A good Cabernet Sauvignon can be an experience to savour. Here's some tips to help maximise your enjoyment:
When drinking a young Cabernet Sauvignon (1-4 years old), let the wine aerate before drinking it. Pour the wine into a glass and let it sit for 15-30 minutes. This will help to soften the tannins, improving the mouthfeel of the wine, and release the full aromas.
When drinking an older Cabernet Sauvignon (anything older than 8 years), decant and aerate it at the same time. This will help to prevent the sediment in the bottle (common with older Cabernet Sauvignon wines) from being passed to your glass.
You won't need to aerate the wine for as long, as the ageing process helps to eliminate the tannins. It won't be as bold a wine, so you can enjoy it more without needing to aerate it.
Our Favourited Cabernet Sauvignon Choices
We're proud to offer a broad selection of quality organic Cabernet Sauvignon wines from around the world, including South Africa, California, Spain, France, and even Romania.
Here's a few of our recommendations that we feel really exemplifies the best qualities of this amazing grape:
This is a wonderful Cabernet Sauvignon for a first-time wine drinker. It's lighter than your average Cab, yet has excellent depth of flavour and surprisingly smooth tannins.
You'll love the dark, rich purple colour, the spicy aromas of black fruits, and the excellent balance of sweetness and acidity.

Helios Cabernet Sauvignon
Best of all, it's a VERY affordable Cabernet Sauvignon!
This South African Cabernet Sauvignon has no added sulphites, and thus ALL its original flavours. You'll get the blackberry fruit flavours without being overpowered by tannins, and the mouthfeel of fresh fruit will enchant your senses.

Stellar Cabernet Sauvignon No Added Sulphur
We're big fans of this Chilean Cabernet Sauvignon, made in a fresh, modern style. This gives the wine a vibrant flavour of blackberries and blackcurrants.

Nuevo Mundo Cabernet Sauvignon
It's a wine to serve and drink young, and one that will pair perfectly with sweeter foods.
If you're looking for a more full-bodied Cabernet Sauvignon, we can't recommend this oak-aged wine highly enough. The Argentine Cab is smoky yet refreshing, with hints of redcurrants and a beautiful balance of acidity and tannins.

Domaine Bousquet Cabernet Sauvignon Reserva
It's a wine to drink with a simple, meat-heavy South American meal, or to enjoy with your BBQ. It has more than enough flavour to stand up to any meat!
Cabernet Sauvignon is a wine that has proven itself to be of enormous value to wine-drinkers around the world. You'll find the Cabernet Sauvignons are rich, hearty, and complex, and come in a broad assortment of flavours that will make each sip a brand new experience.​