Pratello
Azienda Agricola Pratello is located in a beautiful setting near Padenghe Sul Garda at the south-west corner of Lake Garda in northern Italy. The entire estate comprises 120 hectares of land including natural woodland as well as 70 hectares of vineyards. The estate also produces extra virgin olive oil as well as having its own vegetable garden and an orchard. A guest house and restaurant complete the impressive picture – a picture with nature at its heart. The estate was granted official organic certification back in 2004 but over the last 12-18 months, under Vincenzo Bertola's guidance, the estate is striving to enhance its sustainable environmental practices even further. Respect for the entire local ecosystem lies at the heart of this quest. Their method will be based on the use of renewable energy sources, environmental compensation, energy efficiency in the vineyard and synergy between animals and plants. They aim to cease using copper in vineyard treatments (even though it is perfectly legal and natural), reduce further the level of sulphites in their produce, to stimulate the planting of trees in order to help the proliferation of birds and insects. To work holistically with nature is the aim.
The watchwords here are tradition and innovation: these are the principles underlying the Pratello philosophy. Tradition is reflected in the names and use of native grape varieties (such as Turbiana, Manzoni Bianco for the white wines and Rebo, Groppello and Marzemino for the red wines), and in respect for nature's rules. Innovation, on the other hand, lies in research into the latest methods of vineyard management and vinification techniques. The winery, located at the heart of the medieval village of Pratello, is completely underground, with one newly-built section for fermentation and bottling operations and the other, older section, where the wooden casks are kept for the ageing of the older vintages. Equipped with cutting-edge technology for optimum grape processing, the winery too satisfies the criteria for organic certification. Only and exclusively grapes from the family farm, Lugana and Valtenesi are processed here. Nicola Ragnoliis wholely responsible for the winery. Pratello has its own bottling line, making the firm entirely self-sufficient in the production cycle. Every individual bottle is flushed out with inert gas (nitrogen) to reduce the amount of oxygen present. This step allows less sulphites to be used as preservatives. Corks are strictly natural cork. Every bottle is identified with a batch number which allows the entire journey of the wine to be traced.

Italy
From the edges of Lake Garda in northern Italy, 'Lugana' wines are deservedly now in much greater demand.
Alcohol: 12.5%



Sale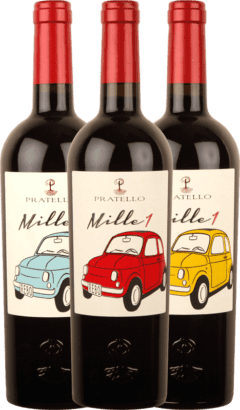 Italy
One of our favourite labels. One of our favourite wines.
Alcohol: 14.5%
Sale