Wine & Food: Pairing Vegetarian Food with Wine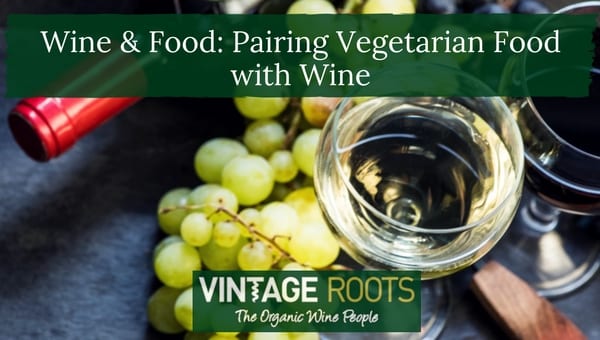 Serving wine with vegetarian food is the best way to bring out the natural flavours of both your food and drink. The combination of vegetarian food and wine is delightful, as the rich tastes of the wine pair perfectly with the bold, earthy tones of your vegetarian dishes. No matter what type of vegetarian or vegan food you enjoy, there is a wine you can pair with it!
Our Vintage Roots experts have combed through our extensive collection of organic wines to bring you the best vintages to serve with your vegetarian food. Read on to find out our recommendations for the best pairing of wine with vegetarian food…
The Basics of Pairing Vegetarian Food and Wine​
It would be too difficult to find a specific vintage to pair with each vegetable on the planet – there are THOUSANDS of them, after all! However, the way we recommend you pair your wine is according to the herbs, spices, fats, oils, and sauces they are served with.
Vegetarian dishes have a wide assortment of ingredients that will pair beautifully with many different wines. However, when choosing the right wine, there are a few things to keep in mind:
Which vegetable dominates? The more prominent vegetable will affect the wine you choose.
How is the food cooked? Deep-fried food will be very different from light, acidic salads or hot casseroles.
Does it contain meat substitute or legumes? These dishes tend to be richer, and thus require a different pairing.
How spicy is the dish? The heavier the spice, the lighter and sweeter the wine!
What region is the dish from? Regional dishes are usually best paired with wines from that same region.
There is no one-size-fits-all rule to any food and wine pairings, but you have to find the right wine to drink according to the dish you are enjoying.
Below are a few of the classic vegetarian food and wine pairings to try:
Vegetable Lasagne
The rich acidity of this tomato-based dish makes it a perfect match for the ripe flavours and hinted spices of a Jasci Montepulciano.
The Italian wine (from the Abruzzo region) is smooth and beautifully drinkable, and will go down nicely as you enjoy the gentler flavours of a vegetarian lasagne.
Tomato-based Pasta Dishes
Tomato-based pasta dishes have a sweetness that comes from the combination of high-carb pasta and stewed tomato sauces. Without meat to bring the richness, the pasta-based dishes will have a primarily acidic flavour that pairs beautifully with a When We Dance Chianti.
Not only is this wine excellent value, but it has a gorgeous cherry tartness that is the perfect complement to these pasta dishes.​
Mediterranean food
Pairing the right wine with Mediterranean food is a great way to bring out the flavours of the unique herbs, olive oil, and other rich ingredients used to make the many Greek, Lebanese, and Sicilian dishes.
The white Touraine Sauvignon Blanc has great balance of fruit, dryness and citrus flavour to match perfectly
Or, for red the Santa Tresa Nero D'Avola 'No sulphur Added' has great acidity that will cut through the high fat content of the olive-oil rich food.​
Butternut Squash Dishes
Butternut squash makes beautifully sweet dishes!
Squash provides a richness that pairs wonderfully with lively, yet fruity southern French reds, which makes the the rich berried tang of the Côtes du Luberon Rouge a beautiful option for any dishes make with butternut squash.
Eggplant Parmesan
Yet another tomato-based dish! This can be paired with either the When We Dance Chianti or the Jasci Montepulciano, as the acidity of the tomatoes will pair gorgeously with the acidic wines. The wines will also balance out the parmesan cheese perfectly.
Lentil Soup
The wine to pair with this soup depends entirely on the texture of the dish. Thinner lentil broths are better eaten alone, but a thick, rich lentil soup is perfect when paired with a San Vito Chianti.
With the savoury red fruit flavours and a balanced acidity with just a hint of cherries, it will make your rich lentil soup a complete meal in itself.
Veggie Burgers
Veggie burgers made with texturized soy protein have a lot of the richness of regular meat, especially if covered in condiments and sauces. For ideal pairing, we recommend a Domaine Bousquet Malbec.​
The hints of vanilla and spice brought by the oak mix with blackberry and dark cherry to add flavour to your veggie burgers.
BBQ Dishes
For anything that has been sitting on the BBQ grill for a while, the smoky flavours of your grilled food will pair perfectly with the spicy Adobe Carmenere Reserva.
This Chilean wine has velvety tannins and a medium structure that complement your BBQ dishes.
Asian Vegetarian Food
The heavily-spiced Asian vegetarian dishes should always be paired with aromatic whites. Beetle Riesling is one of our favourite pairings, as the light bouquet of green apples and citrus bring out with the tangy flavours of Asian food.
But a good Adobe Gewurztraminer is one to mix with veggie-heavy noodle dishes, thanks to its flavours of candied fruits and orange blossom.​
Spicy Indian Food
With Indian food, you always get full-on flavours all the time! You need a wine that will help to cut through both the spiciness and greasiness of the food.
A full-flavoured Domaine Bousquet Rosé is able to stand on its own, and it has an fresh elegance that will bring the food to life.
For something stronger and with a bit more fruit, we highly recommend the soft, supple berry flavours of a Stellar Live-a-Little Red.
Or, why not try something completely unique and go with the Meinklang Graupert Pinot Gris, an orange wine with so much flavour, and a dry finish.
Salads
When pairing wine with vegetarian salads (no cheese, meat, or creamy dressings), you want to make sure the wine is flavourful without overpowering the salad's acidity. This means you want to go light and dry with your white wine.
Domaine de Pajot Quatre Cepages is one of our favourite whites to pair with a vegetarian salad, as the unoaked blend of four grapes is refreshing and dry with a lighter alcohol content.
Or, Tournebride Sancerre provides harmony to your palate with a crisp aged white that combines citrus and flinty aromas.
Mushroom Dishes
Mushrooms have an unami-heavy flavour, but without actually being a meat. Whether you're having a mushroom risotto or a pasta heavy on the truffles, you'll want to consider DOCG Barolo Boiolo Camparo.
Sweet Potatoes
With your sweet potatoes, you want a wine that is rich and able to stand on its own. Vina Ijalba Rioja Crianza is a Spanish Rioja that brings together the flavours of dark berries with cassis, and is the perfect option for those who love a wine that has aged to perfection.
Of course, these are just a few recommendations on wines you can pair with your vegetarian food. Just like there are thousands of veggie-heavy dishes, so too there are wines that will match perfectly with different foods, spices, and herbs. Use our guidelines above to help you as you explore the wonderful world of pairing vegetarian food and wine.
Did you know that Vintage Roots has wide collection of organic vegetarian wines, beers, ciders, champagnes, and fortified wines and liqueurs to choose from? These vintages are made from quality organic ingredients, with processes that are both vegetarian and vegan-friendly. If you are looking for the wine to match your dietary habits, you'd do well to check out our virtual wine cellar!