The Natural Wine Movement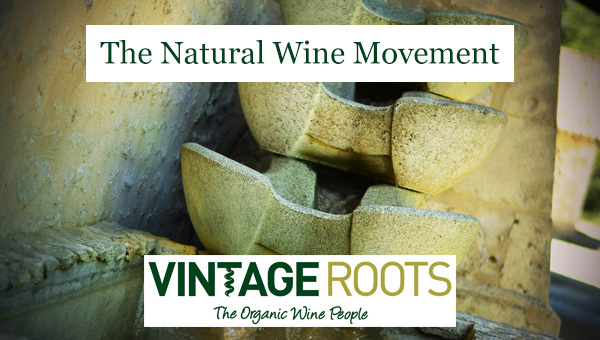 "Relating to, produced by or according to nature, to the natural world or human nature; provided by or based on nature; not miraculous or supernatural; not the work of humans, not artificial; not interfered with by humans …" So says The Chambers Dictionary (ed.2000) on definition of 'Natural'
Natural … from clothing to tampons, bread to shampoo, it's hard to take too many steps down a (thriving) high street without seeing adverts for all-things natural. Sometimes replaced by words like 'authentic' or 'pure', this is the vocabulary of our times and it is being used to sell goods and services with impressive success. But what does it actually mean in the context of the things we buy and, in particular, for wine?
Beloved by many of the world's leading sommeliers and championed by the likes of Master of Wine, Isabelle Legeron, natural wines have become increasingly present on restaurant wine lists and on wine merchant shelves. Some sommeliers – including those at Nobu and Hibiscus restaurants – argue that these wines are the most appropriate match for locally-sourced food menus.
In her book, "Natural Wine: An Introduction to Organic and Biodynamic Wines Made Naturally", Legeron writes, "natural wine is a continuum, like ripples on a pond. At the epicentre of these ripples, are growers who produce wines absolutely naturally – nothing added and nothing removed. As you move away from this centre, the additions and manipulations begin, making the wine less and less natural, the further you go out".
It seems that "nothing added and nothing removed" is the best way to describe natural wines and we would have to agree with Legeron who says that to make wine in this way requires fastidious care and attention because the risks of wine faults are so much greater. For wine to be truly natural, in the Chambers sense then it should not be "interfered with by humans" and that means limiting the options to help counter problems such as those cause by bacteria and excessive oxygen.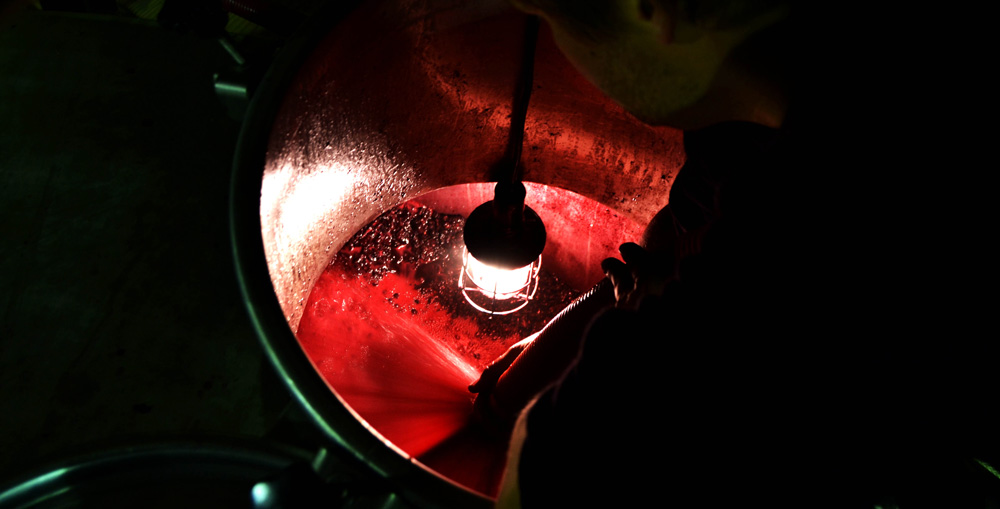 There is no legal definition for natural wines and so it is simply not possible to give you a neat answer to what makes a wine natural but it would be fair to expect a wine that calls itself such to:
Be made from fruit that has been farmed following organic or biodynamic principles (not necessarily certified) and harvested only by hand.
No added yeasts or additives, such as acid.
Restricted use of sulphur with limits often lower than those currently stipulated by organic and biodynamic certifying bodies
No fining or filtration. No other heavy manipulations in the cellar.
If you're wondering what sort of ingredients can end up in wine then consider: tartaric acid can be added to make wines crisper and fresher in taste; sugar can support lengthier fermentation times, whilst adding water can temper excessive alcohol. Beneficial strains of yeasts are popular in kick-starting and controlling fermentations. For some wine producers – be they biodynamic, conventional, natural and or organic – certain of these ingredients will be absolutely unacceptable whilst others will be heavily regulated by governing bodies. What is true is that all have played a part in recent decades in bringing a much wider choice of wines from all over the world, to an increasingly curious wine drinker's marketplace. Wines have been more stable and thus, more saleable. It is a commercial factor that is hard to ignore.
 Is there sulphur in natural wines?
Some natural winemakers will use very small amounts (below 50ppm), while others will use none at all. As with the definition of natural wine, there is no set amount that winemakers have to adhere to.
A wine with no added sulphur is not always a natural wine though.
Regular followers of our blog may well have read our piece on sulphur and it is worth a read if you want the full SO2 low-down but we are revisiting it here because the levels used in natural wines tend to be much less. Click here to read All You Need to Know About Sulphites in Wine
The helpful website www.morethanorganic.com talks about sulphur in both the winery and in the bottle and makes it clear that a natural winemaker would avoid using sulphur during picking, crushing and fermentation and "would only ever use sulphur dioxide at bottling, only in white wines and only in very small quantities. Many natural winemakers use none at all".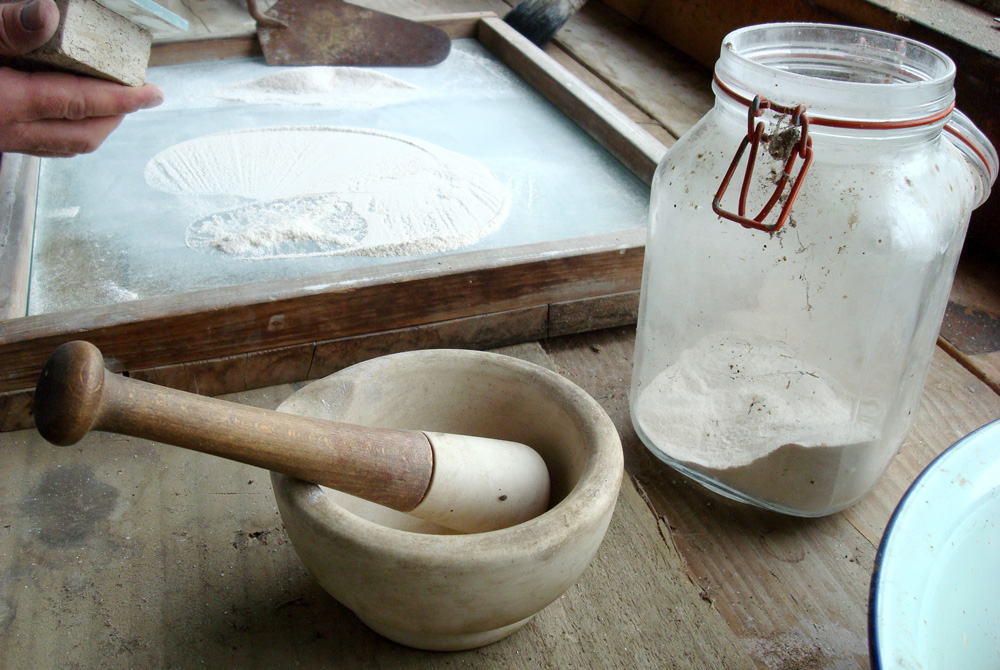 We know that sulphur is used to prevent oxidisation which, in turn, causes the wine to discolour. Oxidisation brings aromas and flavours to the wine that for some are a fault, whilst others consider well-managed oxidisation a process that can enhance a wine's qualities.
These oxidative qualities are what tend to define natural wines and there is no doubt that they are an acquired taste! Still, for the asthmatic and sulphur-sensitive, these wines are a godsend.
 Are natural wines organic and biodynamic?
Most natural wines are made using organic and/or biodynamic methods, but won't necessarily be labelled as such. As always, the only way to know if a wine is organic or biodynamic is if it has certification.
We cannot help but raise a wry smile when we hear our friends in the natural wine movement complain about how they are seen by the cynics; they want to move away from an oft-perceived image of sandal-wearing, slightly wacky odd-balls making experimental wines. Thirty years ago, when we started selling organic and biodynamic wines, we were faced with similar scepticism with organic wines, and it took a lot of hard work to move away from this and for our wines to be taken seriously by the wider population.
Core to our success was our decision to only ever import and sell wines that were certified by an appropriate governing body. This was true of both organic and biodynamic wines. We also chose to support estates that we in the conversion process to full certification because we believed – and still do – that supporting those that are making the shift is important. It takes three years to become fully organic
Some grower-led groups are popping up, with guidelines for their natural grower members.  These include, L'Association des Vins Naturels and Les Vins S.A.I.N.S in France, Asociación de Productores de Vinos Naturales de España in Spain and Italy's VinNatur. Legeron says that their regulations are far stricter than those set up by the official organic and biodynamic-certifying bodies but charters are not legally-binding and so our stumbling block remains.
Are orange wines natural wines?
Orange wines are a white wine that has been made with the juice enjoying an extended time on the grape skins and pips (i.e. made as red wines usually are), which gives the wine a distinctive colour. The reason that people assume orange wines are natural wines is that it is another strongly non-interventional way to make wine, these wines can sometimes also be fully natural. Some winemakers will leave the fermenting juice alone for a matter of days but others will leave it for months, sometimes extending beyond a year! As a result, orange wines often have oxidative qualities, tasting a little sour, nutty or funky. They can certainly match foods very well, due to the heightened levels of tannins within. For more tips on matching wine and food, check out our blog here.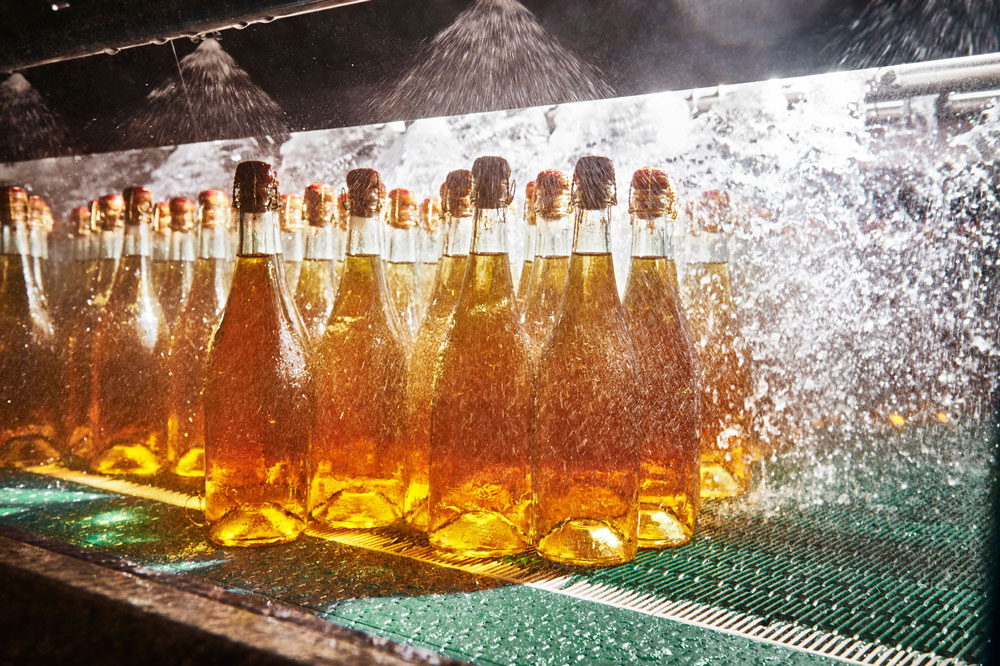 Are there any downsides to natural wines?
At Vintage Roots we support the natural wine movement. The ethos behind natural wines is akin to that held by our organic and biodynamically certified producers – indeed we work with winemakers who consider themselves natural winemakers. The Vintage Roots approach is explained in the illustration below: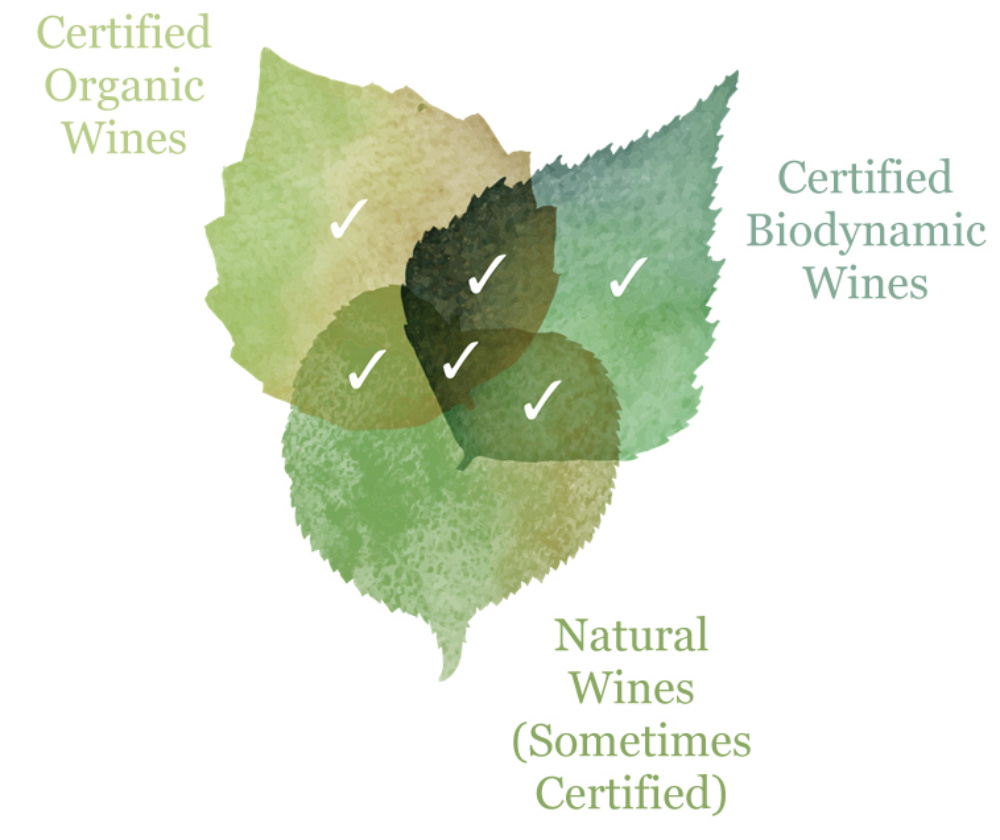 We remain wary about the lack of proper regulation. Layers of administration are tedious and we are sympathetic to those that argue the idea of certification is somewhat counter to the natural movement, but in the end, who is looking out for the consumer?
The cost of many natural wines is high, with prices well in excess of £10+ per bottle and that makes them unobtainable for many. Also, the decision to work with less sulphur does make the wines at increased risk of deterioration. However, at Vintage Roots, we select our no and low sulphur wines very rigorously. Selection is vital, and over the last five years, we have found no discernible difference with these wines 'going off' early. You can enjoy them with confidence!
For some the anarchic labels that have become a feature of natural wines are all part of the fun… for others they can be a bit of a turn off!
I've bought my first natural wine – what should I expect?
Sometimes, a wine like you have never drunk before!
As with all wine selections and categories, you will have the good, the bad and the downright ugly!
Chances are the wine could be cloudy and have some sediment. This is because the wine will not have been filtered or fined. The aroma is likely to a little wilder than you are familiar with earthy, nutty, farmyard-like smells being much more common. These wines cannot be pigeonholed. Lovers of the style will tell you that the palate will be more alive and vivid. It's not unlikely that some of the flavours may strike you as a touch yeasty, or even sour, and towards a cider taste. For many, natural wines are the top choice if you're fanatical about food and wine pairing.
Pierre Jancou writes, "some natural wines need to be opened several hours before they are served. They can smell unappealing at first or contain gas, making them slightly fizzy. They are also likely to contain sediment. A little bit of patience and a decanter are all that is needed."
Can I buy natural wines from Vintage Roots?
Yes! We have many natural wines that are also certified organic.
We do not have special symbols for natural wines and many of our certified organic and biodynamic wines will be mostly natural. Here are a few suggestions for our best and most liked though.
Meinklang Weisser Mulatschak 2018 (Austria)
A living wine with bags of character made from Pinot Gris, Gewurztraminer and Welschriesling. Appley and fresh, with hints of rose and lychee.
Champagne Fleury – Blanc de Noirs
Biodynamic for over 30 years this Pinot Noir based Champagne is dry, and has excellent depth and concentration, whilst having soft elegant mousse.
Davenport Horsemonden Dry White – Kent
Complex citrus driven flavours make this a joy to drink. Expressive and balanced this is English winemaking at its best.
Côtes du Rhône – Château Rochecolombe
Impressive, imposing aroma of blackberry, damson and a hint of wild scrubland herbs. The palate is equally enveloping and inviting with copious waves of dark fruit interweaving with notes of liquorice and spice. 60% Grenache and 40% Syrah, a superb example.
For those curious (or converted) about 'natural wines', why not give them a thorough investigation with our six bottle wine natural wine box, aptly called 'Naturally Gifted'.
Our first 'natural wines' mixed case, it has been selected to give an experience of the style and quality that can be found, within this emerging, often talked about wine category. They are about low intervention, the use of natural yeasts for fermentation, low sulphur levels, hand harvesting and of course organic and/or biodynamic farming techniques. Remember, all our wines are certified, whereas many 'natural wines' are not. Experience some great natural wines here! Wines are from England, France, Austria and Spain.
Here's a few more to consider
As with all our wines we enjoy your feedback, do feel free to email us on info@vintageroots.co.uk, or call free on 0800 980 4992 or indeed review online