South African Wine: A Potted History
Vine growing and winemaking began in South Africa in the mid seventeenth century when the Dutch East India Company established a refreshment station at the Cape to provide fresh food to the company's merchant fleet. Lack of viticultural knowledge didn't help the locals get off to a great start but the second Governor of the Cape, Simon van der Stel brought with him both enthusiasm and know-how. It was he who planted vines at the world-famous Constantia farm, where great wine was – and continues to be – made from the start.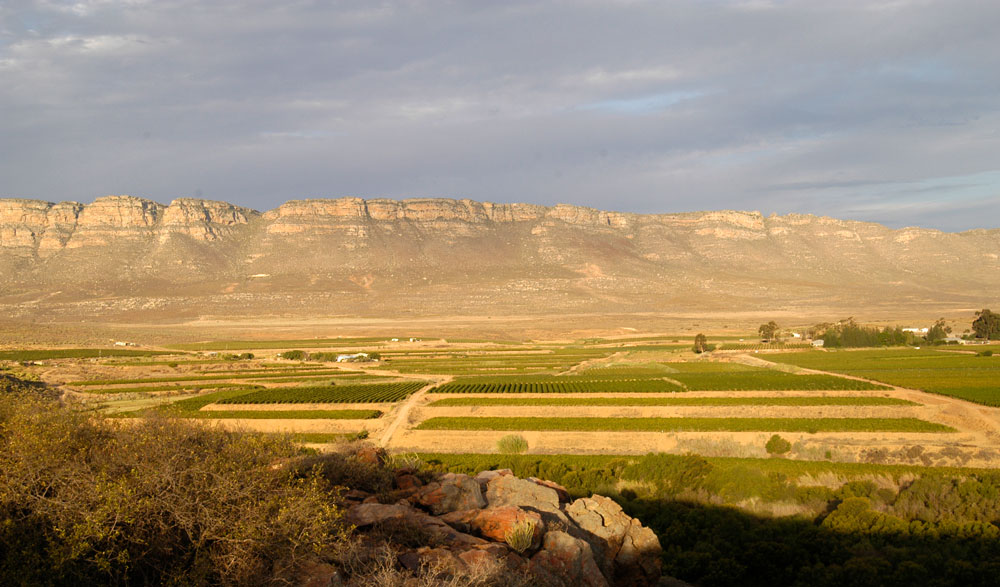 To say that South Africa's wine journey has been challenging is an understatement at best. Trading challenges, critical shortages in oak vats for ageing, the Anglo-Boer war, apartheid … All have contributed to tough times for the industry. Despite all of this, South Africa has come to be fine wine producer. In the 1950s the Viticultural and Oenological Research Institute (called Nietvoorbij today) was founded giving grape growers much needed support. In the 1970s the Stellenbosch Wine Route was created and remains one of the most beautiful to drive in the world! In 1972 Wine of Origin (like the French appellation contrôlée) legislation came into force and were updated in 1990.
In the last twenty years the wines of South Africa have benefited hugely from increased expertise, foreign investment and global interest in the wines. Farmers have an increasingly intimate knowledge of their vineyards, the terroir and the grapes they work with. The quality of South African wines has never been higher, and it continues to improve and there are now many South African wines that can rival the very best in the world.
South African Wine Regions
The majority of South Africa's vineyards are located near the coast in the Western Cape. Wines of South Africa (www.wosa.co.za) report that there are currently just over 92,000 hectares of vineyard in the country.
The South African wine industry talks primarily about demarcated geographical units of which there are six currently demarcated: Western Cape; Northern Cape, Eastern Cape, Kwazulu-Natal, Limpopo and Free State. Within these geographical units are regions, such as Klein Karoo and Coastal Region which are further refined into districts (i.e., Paarl, Robertson and Stellenbosch).
Districts are a viticultural area with distinctive climatic conditions but probably larger than a ward. Wards are small, demarcated vineyards with a relatively homogenous pattern of natural factors … in other words, a unique terroir.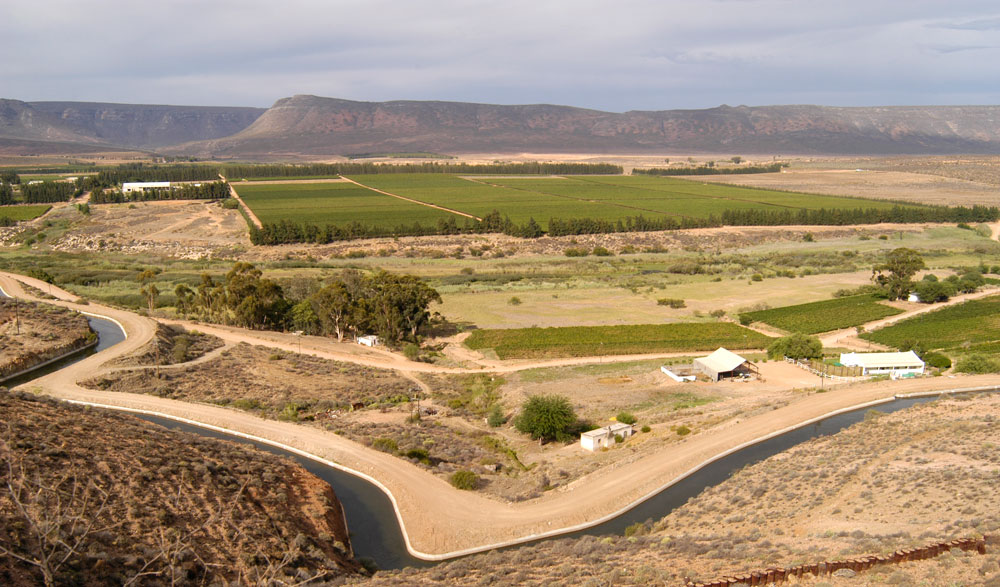 Just because no wine classification system seems content until it has more layers than royal wedding cake, there are two further tiers to be aware of. Estate wines and single vineyard. Estate wines must have been bottled and produced at the named estate and be made from grapes grown there. Single vineyard wines must come from an area no greater than six hectares.
Apart from the biodynamic Longridge wines, the Vintage Roots South African wine selection is sourced from the Western Cape. This broad geographical unit allows the winemakers to pick the best grapes from a variety of sites.
Visit the Cape Winelands and you'll hear a lot about the influence of not just one but two great oceans on the climate the vineyards enjoy. Where the Atlantic and Indian oceans meet, strong maritime influences prevail with regular coastal fog and cooling sea winds – a blessed reprieve from the oft sun-drenched vineyards. The soils are diverse and anyone who has stood atop Table Mountain can testify, there is an impressively varied topography. The flora and fauna are just as impressive, and it too plays an important part in the terroir of South Africa's wine regions and individual vineyards.
What Red Grape is Unique to South Africa?
Ah ha! The unique red grape of South Africa is Pinotage.
Pinotage's story began in 1925 when Abraham Izak Pernold, the first professor of viticulture crossed Pinot Noir with Cinsault. It was not until 1941 that the first Pinotage wine was made and another twenty years for Pinotage to appear on a wine label for the first time when the 1959 Lanzerac Pinotage was released.
Truthfully Pinotage was not always loved by the critics and experts but as with so many things in life, practice and increased knowledge has allowed for Pinotage to be crafted with increased skill and the results are stunning. When a Pinotage wine won the Best Red Wine of Show at the 1991 International Wine and Spirits Competition in London it marked a new-found universal respect for South Africa's unique red grape.
Pinotage wines vary greatly in style but dark plum, blackberry, cherry, liquorice and spice are commonly found. For fun you can look at the aroma wheel that has been especially devised for the grape.
More fun, buy a bottle and taste for yourself. Vintage Roots have two Pinotage wines, one lighter and the other bolder and more complex. Why not buy a bottle of each and compare and contrast at home?
What Organic Wines come from South Africa
Although there is no official data available, IPW and Ecocert estimate that there are currently 1,860 hectares of organic and / or biodynamic vineyard in South Africa. That's about 2% of total plantings. It is less than the global average, but The Biodynamic and Organic Wines of South Africa is an association that seeks to promote organic viticulture and winemaking in the country.
In an interview for WineLand magazine, South African organic pioneer Sophie Germanier, was asked about the feasibility of producing organic wine in South African and whether growth was supported but the home market as well as export. Her answer is telling and says much of the challenges facing organic and biodynamic producers: "Producing wine in South Africa is becoming less feasible year on year and organic is no exception to the rule. We rely fairly heavily on global exports to allow us to achieve sales targets and growth. However, we're working on strategy to develop out organic sales in the local market. South Africa has not quite embraced the organic wine trend as much as Europe, America and even China. We know SA consumers are very focused on price at the moment and producing a cheap and cheerful certified organic wine to cater to this price-sensitive consumer is awfully difficult."
Still, the association lists just under forty organic and / or biodynamic producers, with a host of quality producers in the mix. It may take time but there's a strong sense that organic viticulture will grow.
Top Organic South African Red Wines
Top South African value for money red wine … Stellar's Live-a-Little Really Ravishing Red is a supply, juicy, flavourful red that rarely fails to delight. A bargain at the price and very versatile too.
Top South African dinner party red wine … Without a doubt, Longridge Wine Estate Driefontein Syrah is the pick here! This critically acclaimed red wine has a good deal of style with lightly spiced black fruit and lovely, soft, supporting tannins. Top class.
Top South African red wine to drink with Boerewors! … What's boerewors you ask? It's a coiled beef sausage that's made with pork or lamb and has a striking resemblance to our very own Cumberland sausage. It's got to be Pinotage – a local red for this South African sausage. Try Stellar's No-Added-Sulphur Pinotage.
Top Organic South African White Wines
Top South African value for money white wine … A blend of Chenin Blanc and Sauvignon Blanc, Stellar's Wildly Wicked White is a bright, fruity white that's a joy to drink.
Top South African white wine to sweep you off your feet … Chenin Blanc is proving to be a winning grape for South Africa's winemakers and the wines are rivalling the world's finest. The Longridge Wine Estate is one such gem. Laden with honeyed white orchard fruit, pineapple and toasted almonds, the finish is long and has great complexity.
Top South African white wine to serve with Cape Malay curry … Has to be the Longridge Wine Estate Chardonnay which has the texture to match the lovely spices that feature in this curry.