Dessert wines are an underappreciated delicacy, and that's great news for us drinkers because it keeps the prices down! They're also more versatile than the name suggests, try a Sauternes with pâté or cheese as a starter to see what we mean.
Below, we'll look at what dessert wines are, how they're made, and what the various dessert wine types are. We'll also give you a few of our favourite recommendations of dessert wines, not only to drink on their own, but to enjoy with a tasty dessert.
By the end of this page, you'll be eagerly looking forward to finishing your next meal so you too can savour a glass of your favourite dessert wines…
What are Dessert Wines?
Dessert wines are produced with extra-sweet wine grapes. The grapes used to produce dessert wines have a higher sugar content than regular wine grapes, yielding a sweeter, richer wine. These high sugar levels are usually achieved by leaving the grapes on the vine for longer than the equivalent dry wines.
The fermentation process of dessert wines can be different from regular wine. Instead of allowing the fermentation to transform all the natural sugar into alcohol, the process can be stopped while there is still a good deal of sugar left in the wine. To make a fortified wine, the winemaker will add brandy or spirit into the wine at this stage.
Thus, dessert wines are much sweeter than regular wines (hence the name, dessert). They can be a dessert in and of themselves (served alone), or they can be served with the dessert course.
The high sugar content makes them the perfect digestif to shut down your appetite and make you feel satiated. Increasingly, however, sommeliers are pairing these wines with starters and main courses.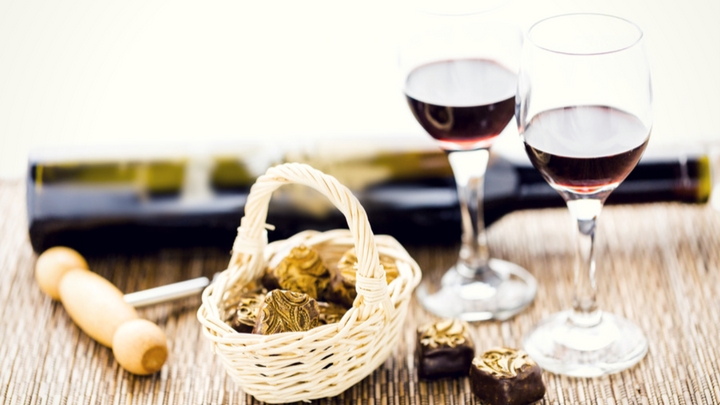 Types of Dessert Wines
There are hundreds of different wines of dessert wines, but there are only five basic dessert wine types:
Late Harvest Wines
These wines, often made from Pinot Gris, Muscat, Gewürztraminer, and Riesling grapes, use grapes left ripening on the vine longer than regular wine grapes. This extra ripening turns the grapes extremely sweet.
The fact that the fermentation process is stopped before all the sugar turns into alcohol means you have wines that are naturally very sweet, but with all the flavours from the grapes.
Riesling is one of the best grapes for dessert wines, as it has a high acidity that counteracts the extra-sweetness. It is crisp, refreshing, and never overly-sweet. It can be a dessert on its own, or it can pair nicely with crème brulee, apple pie, and other desserts.
Fortified Wines
Fortified dessert wine is a wine that has had alcohol (often brandy) added to stop the fermentation process. The unfermented sugar gives it the extra sweetness, but the added alcohol adds body. In fact, the average fortified wine has a 15-20% ABV.
Port is one of the most popular of the fortified dessert wine types, thanks to its deep red colour and rich flavours of ripe berries, spices, and dark plums. Other fortified wines include Madeira, Sherry and Banyuls.
Ice Wines
Ice wines come primarily from Austria, Germany and Canada, where the grapes are allowed to freeze on the vine.
The grapes are picked while still frozen, often in the middle of the night, pressed carefully to separate the water (ice) from the grape nectar, and turned into a sweet wine.
True ice wine is actually fairly rare and costly, but it's a wine well-worth trying if you want something tasty for your desserts. They're particularly delightful when paired with baked goods and pastries thanks to the amazing purity of fruit and cleansing acidity.
Noble Rot Wines
These sound odd, but they're surprisingly delightful!
Noble rot is a fungus called "Botrytis cinerea", and it causes the grapes to shrivel by leeching out most of the water.
What remains is only pulp, but it's extra sweet and also has a unique, exotic aroma that adds complexity to the wine. When pressed into juice and turned into wine, the result is an incredibly lush and viscous wine.
The wines tend to have strong honey, exotic fruit, and spice flavours, and they pair nicely with rich desserts. Sauternes is a classic example.
Dried Grape Wine
Think of how much sweeter a raisin is than a grape, and you have an idea of how sweet these dessert wines are.
The grapes can be dried in different ways: on the vine, hung on racks, or laid out in the sun, and the drying process produces wine with strong flavours of honey, candied fruits, and cooked fruit.
This is a classic Italian method for making dessert wine, and famous examples include Recioto di Soave and Vin Santo.​
Our Dessert Wine Recommendations
We've done our homework and dug up some of the best dessert wines for you! You'll find that these serve as both standalone wines and perfect dessert (or savoury!) pairings:​
This beautiful wine is a dried grape wine, made by drying the Muscat grapes on a bed of straw and Rooibos tea leaves. It has the natural acidity that makes Muscat wine so delicious, but with an extra sweetness that makes the wine extra tasty when chilled.

Stellar Heaven on Earth Sweet Muscat
It pairs wonderfully with a mild blue cheese or a light, flaky pastry for dessert. You get the aromas and flavours of roses and apricots, with hints of pine tree and Rooibos to round it out nicely. Perfect at the start or end of a meal.
This Moscato is Italian-made, with a low alcohol content (just 5%) that makes it the perfect option for finishing your heavy meal with something light, crisp, and acidic.
The flavours of melon, nectarine, and grape are brought out by the balanced acidity, and it's a wine that will dazzle your palate with every sip.
DOCG Moscato D'Asti
A classic match for fresh fruit tarts.
This oak-aged Sauternes makes for a wonderful dessert wine, with a sheer silky texture and opulent, rich flavours.
AOC Sauternes Château Dudon
It's the perfect pairing for richer desserts, thanks to its ginger, fruit, and spice notes. This will keep for many years if you can resist it now!
This is yet another dried grape wine, one from the Italian Marche region. With a super clean and creamy texture and smooth finish, it's the wine to serve with any dessert.

DOC Verdicchio dei Castelli di Jesi Passito Curina
Best of all, it's not too sweet thanks to the high acidity – typical of many Italian sweet wines.
This Italian Veneto wine is made from the sweetest grapes on the vine, and are left to dry for up to six months before being pressed and fermented.

Fasoli Gino DOCG Recioto di Soave San Zeno
The result is a sweet wine that pairs beautifully with citrus- and fruit-tarts, as well as mature cheeses. The longer you let it age, the more complex it becomes.
This half-bottle of port is one of Portugal's finest, with a dense colour that's gorgeously inky dark, complex flavours of extra-ripe berries, and a gentle hint of spice that makes for a truly pleasurable experience.

Casal Jordoes Finest Reserve Port
The port is balanced, elegant, and has excellent length. All in all, a port worth drinking.
This Argentine Malbec is macerated for four months, ensuring maximum extraction of flavour from the grapes before fermentation.

Domaine Bousquet Fortified Malbec
Fortified to 18% alcohol, this wine has a natural acidity to balance out its sweetness, and you'll love the flavours of chocolate, caramel, marmalade, and spice that makes the perfect end to your dinner.
These wines are the perfect option for those who want something sweet and heady to finish your meal. Whether you enjoy them alone or with a dessert, they are just what you need to shut down your appetite.
Check out our entire collection of dessert wines to find the wine that suits your tastes best…