When it comes to Old World wines, only two countries can compete with France for the title of "best wines": Italy and Spain. Italian Prosecco gives French Champagne a run for its money in terms of popularity, while the Riojas and Garnachas of Spain challenge the French Pinot Noir or Cabernet Sauvignon for quality and ageability.
Did you know that Spain produced 4.1 billion litres of wine in 2014/2015? That's a lot of happy customers enjoying the wines made in the many Spanish wine regions!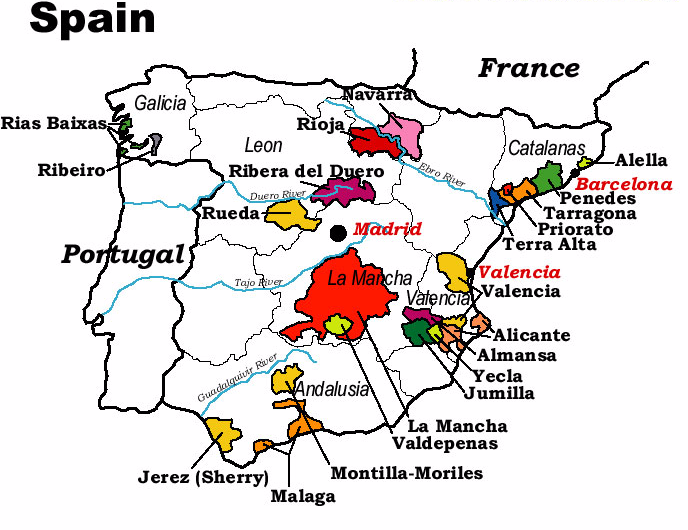 On this page, you'll learn everything you need to know about the most famous wine regions of Spain. By knowing more about the Spanish wine regions, you'll be able to pick the best Spanish wines!​
Rioja Wine Region​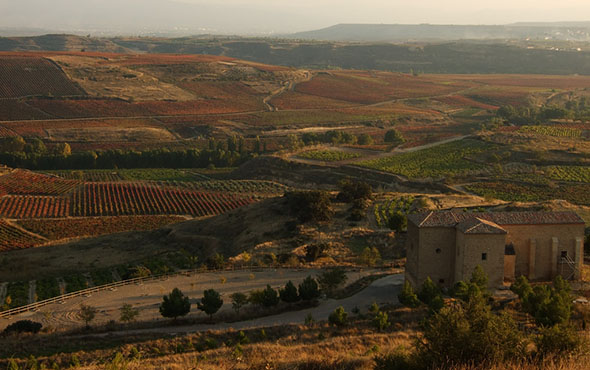 Of all the wine regions of Spain, none are quite as well-known as the Rioja wine region. This Spanish wine region is located in North-Central Spain, near the Ebro River.
Rioja wines can vary in style, but usually have fruity and earthy flavours, with a very smooth taste. According to Rioja wine law, Tempranillo grapes can be blended with Maturana Tinta, Garnacha, Mazuelo, and Graciano grapes, or even some non-traditional varieties like Cabernet Sauvignon.
The mixture of these grapes often combines sweet flavours with sour and rich, producing some of the most unique wines in the world.
Rioja wines spend extra time ageing. Joven (young) wines are released without any oak ageing and have a pure fruit character. Crianzas spend one year ageing in barrel and one in bottle. Reservas spend one year in barrel and two in bottle. Gran Reservas age in barrel for no less than two years, and three more years' ageing in bottles.
The result: elegant wines worthy of the name Rioja!
Try these amazing organic Rioja wines:
Viña Ijalba Graciano -This organic wine uses Graciano grapes, which produce aromatic, spicy wines with extra length and floral notes. This wine has a delightful flavour of herbaceous fruits and quinces, with well-integrated oak aromas.
Penedès Wine Region
The Penedès wine region is located in Catalonia, North-East Spain. Set amidst the coastal hills of Serra del Garraf, this is considered one of the best of the Spanish wine regions – and one of the oldest.
The most famous of the Penedès wine is Cava, a sparkling white wine worthy to challenge Champagne and Prosecco as the best European sparkling wines. Most of the grapes grown in this region are white varieties, though there are a few red grapes that produce particularly excellent oak-aged red wines.
Looking for a good Penedès wine?
Albet i Noya Curios Xarel.lo – This wine is made from five-decade-old Xarel.lo, and is a particularly good example of a still white wine made from this local variety primarily used in Cava and Penedès sparkling wines.
There's a beautiful acidity and crispness to the bright wine, and is the perfect option for those who like lively, refreshing whites.
Priorat Wine Region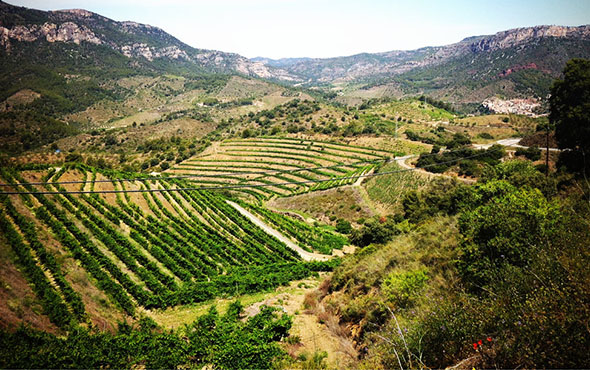 The Prioriat wine region is famous due to the fact that most vineyards are built on scarily steep terraces that climb the hills and mountains Priorat. Vines growing in the slate soil of Priorat have to dig extra deep to find water and nutrients.
The warmth, and sunny exposure of this region produces some of the heartiest, richest wines around, while the poor, slate soils balances this power with a refreshing minerality.
Most of the red wines produced in Priorat blend Cariñena (Carignan) and Garnacha (Grenache) grapes with Syrah, Cabernet Sauvignon, or other red varieties. For quality and value, the wines of Priorat are some of the most famous. It is the only region aside from Rioja to receive the prestigious DOCa qualification.
Try this amazing Priorat wine:
Barranc dels Comellars Vi Negre – This wine is a heady blend of Garnacha, Cariñena, Cabernet Sauvignon, Syrah and Merlot, with the flavours of dark forest fruits and blueberries followed by a mineral stone finish.​
Ribera del Duero Wine Region
The Ribera del Duero wine region is another of the most famous Spanish wine regions. Located on the elevated plateau in the southern plains of Burgos province, it stretches along the Duero river. The area receives moderate-to-low annual rainfall, and has long, dry, hot summers followed by harsh, cold winters.
The grapes grown in Ribera del Duero are almost exclusively red – only one white grape (the Albillo) is grown here. Most of the wine produced in this region is Tempranillo (known locally as Tinto Fino), with very little mixing or blending. Some blends include Malbec, Merlot, or Cabernet Sauvignon. Ribera del Duero uses ageing requirements similar to those of Rioja.
Want amazing organic Ribera del Duero wines? Try these:
Dominio Basconcillos Roble – This Tempranillo wine is richer and more powerful than a Rioja, but with enough acidity to make it effortlessly drinkable.
With a rich, dark colour and expressive aromas of cooked plums and vanilla, it's a terrific wine that shows off the classic hallmarks of great Ribera del Duero.​
Valencia Wine Region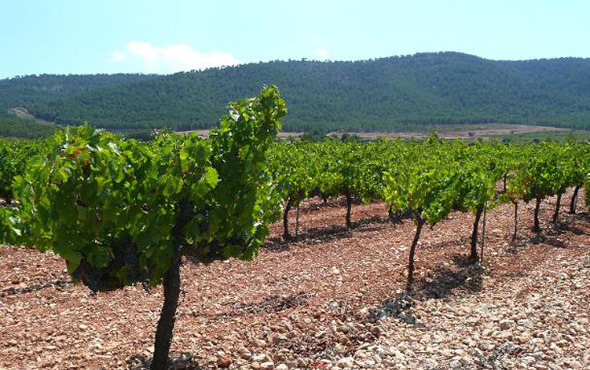 The Valencia wine region is one of the oldest in Spain. Grapes have grown in Valencia since the Neolithic Era. Most of the wine produced here is exported around the world, putting Valencia on the international wine map!
Though it is situated along Spain's east coast, most of the vineyards are located deeper inland. The sandy, chalky, limestone-rich soil of Valencia produces a wide variety of wines, including world-famous Moscato grapes.
The ageing process in Valencia is different than that of Rioja or Ribera del Duero. Crianza wines are only cask-aged for three months, while Reserva wines are aged for no less than six months.
Look no further than this delightful Valencian red:
Spartico Tempranillo –  This "no-sulphur added" wine has a smoky, savoury bite that contrasts perfectly with the heavy fruit flavours. It's a perfect wine to serve with rich, fatty, and oily foods, such as chorizo!
Honorable Mentions:
Here are a few more wine regions worth knowing about:
Navarra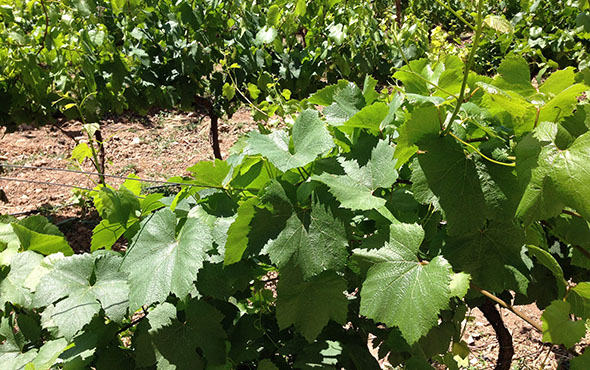 This increasingly popular region is most famous for its Rosado (rose) and red wines, which account for 95% of local wine production. The winters are cold and the summers are long, hot, and dry, producing a smaller yield than the larger wine regions, but consistently high quality.
Wines like Fiesta Azul y Garanza DO Navarra prove that the climate produces deep, rich wines.
La Mancha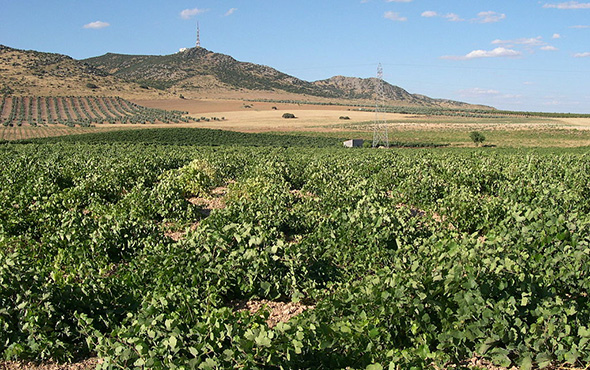 Located in Central Spain, this is the world's largest continuous wine growing region. There are more than 300 wineries and 22,000 grape-growers in the region, which is known for producing delicious Tempranillo and Garnacha wines.
Try Symphony No Added Sulphur Garnacha
or Toscar Tempranillo as a sample of the quality for which La Mancha is famous.
Rueda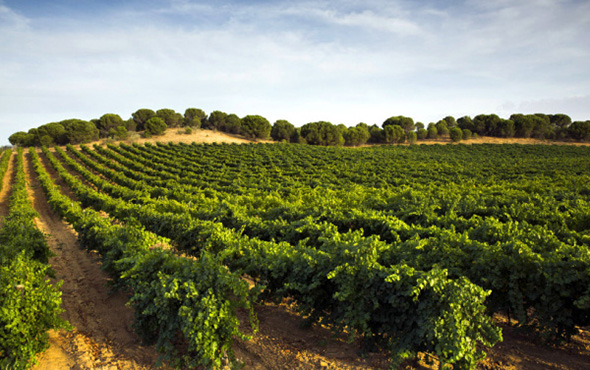 Located in Castilla y Leon, this wine region is famous for producing crisp, flavoursome white wines using the Verdejo grape. The continental climate and high sunlight (2,700 hours per year) produces quality white wines.
Bodegas Piqueras Wild Ferment Verdejois an uplifting vintage that combines creamy and dry, mineral and nutty to make a great wine with body and freshness.
Jumilla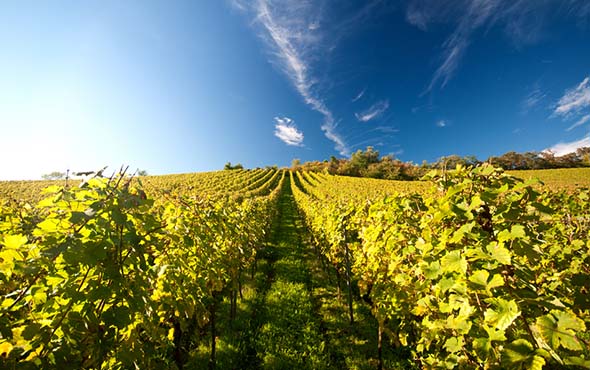 This wine region occupies a great deal of Murcia and stretches into Castilla-La Mancha. With 3,000 registered grape-growers occupying 32,000 hectares of arable land, Jumilla produces a lot of Tempranillo, Garnacha, Merlot, Cabernet Sauvignon, Chardonnay, and Moscatel grapes.
The Carta Roja Pura Monastrell is one of the best wines Jumilla has to offer – rich flavour at a great price!
Jerez / Sherry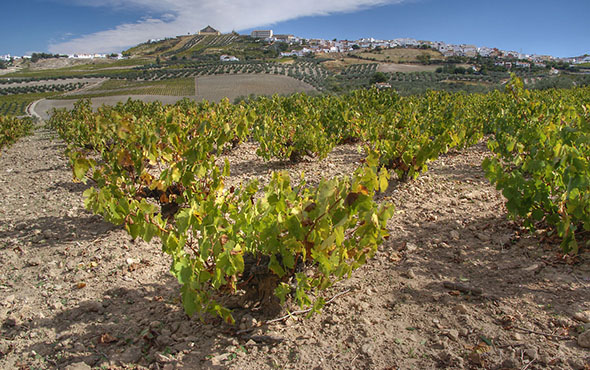 Sherry is one of the most historic and famous wines in the world. Its popularity is thanks to its coastal location and the boom in overseas trading and exploration from the 15th century onwards. Ships would stock up on local wine, fortifying it with brandy to help it keep on the long, hot journeys.
These are still some of the greatest wines in the world, but as their popularity has waned, prices have dropped making these some of the greatest vinous bargains available anywhere!
Bodegas Gomez Nevado sits inland of the official Jerez/Sherry region, but they hand-produce their wines using exactly the same methods. The Palido is a Fino style wine – dry, crisp, light and almondy.
While the Dorado is similar to an Amontillado – it is still dry but is aged for longer to give a richer, nuttier taste.
Both have incredible umami flavour and are great value.
Learn about these Spanish wine regions, and you'll have an easier time choosing the right wines. The more you know about each region, the better-able you'll be to choose the best wine for the occasion.
Whether you're looking for an everyday tipple, a party wine, or a bottle to store in your collection, Spain has a lot to offer!​