Sale






France
Aromas of fruitcake and fresh spice come rolling off this wine even sat at arms reach from you. Using 60 year old vines that have become part of the land this wine really shows off it's terroir.
Alcohol: 14.5%
Sale





France
Rich, full-bodied Syrah and Grenache blend
Alcohol: 15%






France
Unoaked Côtes du Rhône wine that is all about pure fruit enjoyment
Alcohol: 14.5%




France
Delicious Côtes du Rhône from our friends at Rochecolombe.

Alcohol: 14%



Sale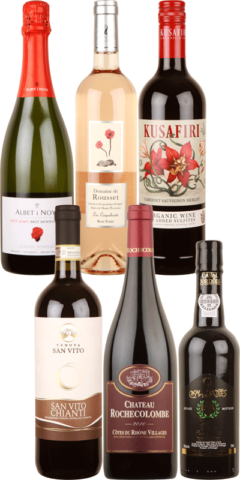 You can barely fit more vinous excitement in a six bottle case! It's super festive, and very diverse (does not actually come in a 'Hamper' but rest assured will be expertly boxed in our sturdy recycled and compostable packaging).
Sale

This mix really shows off the excellent organic quality available, when you choose to spend around £10 per bottle.

Superb mix of six of our favourite and best-selling organic red wines